Legal Guidance After An Out-Of-State Car Crash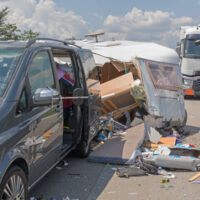 Car accidents can be distressing, and sometimes the overwhelming feelings connected to a collision are heightened when the accident occurs in an unfamiliar location, but there are steps you can take to care for your wellbeing and protect the strength of a future compensation claim after an out-of-state car crash.
Whether you are a Florida resident who was injured while traveling or you were visiting the Sunshine State when you were involved in an accident, an Orlando personal injury attorney can help. Legal professionals are available to guide you through best practices after an accident and seek just compensation for your loss.
Exchange Information and Contact Local Law Enforcement
Regardless of where a vehicular collision occurs, calling the police after an accident is important and may be legally required.  Exchanging information with all other parties involved is also beneficial. This includes taking down the driver's license numbers, license plate numbers, and insurance information from all drivers. And you will want to gather names and contact numbers from bicyclists, pedestrians, and witnesses as well.
If you are able to do so it is also helpful to capture photos and videos of the accident scene and damages to the vehicles involved in the accident. Documenting the vehicle damage, road conditions, traffic signals, and any visible injuries with your phone is fine, there is no need to worry about not having a high-quality camera. Gathering images is more important than worrying about the camera type as this visual documentation can serve as evidence later.
You also should call the local police or alert highway patrol to report the accident. An official police report can provide an objective account of the incident, and it may include details about the conditions that you had not thought to record. All of this can be useful for insurance claims and legal proceedings.
Police can also help you connect with healthcare support, and even if you don't feel immediate pain, seeking medical attention promptly gives healthcare professionals an opportunity to connect you with a proper treatment plan, should you need it. Plus, having a medical record linking your injuries to the accident will be valuable should you need compensation for medical expenses at another time.
Notify Your Insurance Company and Consult with Legal Counsel:
Providing your insurance company with information about a crash, in your home state or while you are traveling, is part of the recovery process.  Always speak to an experienced accident attorney before speaking to any insurance company.
Have you sustained an injury in an out-of-state crash and aren't sure how to proceed?  If you're confused about the legal process for vacation accident compensation or encounter difficulties with insurance claims, consult with the attorneys at Israoui Law. Our injury lawyers can provide the guidance and support you need to navigate your situation successfully. Call 407-381-4529 today for the personal attention you deserve.