Reporting A Car Crash And Notifying Your Insurance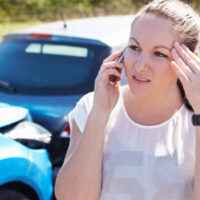 If you are ever in a Florida car accident, reporting the accident is important. While you are not required to report minor collisions, such as fender benders, under Florida law, doing so could protect you from future financial loss. Because even if you initially feel fine, you could have accident injury symptoms come to light later, and if you never reported the crash or connected with a doctor, it can be difficult to obtain the monetary recovery you will need to settle those injury treatments.
Calling in a Florida accident is an opportunity to let law enforcement professionals know where the accident occurred and if anyone is noticeably injured as a result of the collision. Sometimes a police professional will be dispatched to the accident site, but in other situations your call will simply be recorded with the operator on duty. Either way, you are beginning an important paper trail should you choose to hire an Orlando personal injury lawyer and file a claim at a later date.   You should always speak to an experienced Orlando accident attorney before speaking to any insurance company.
Bodily Harm and High Losses
You must report an Orlando car crash if there is property damage valued at over $500, one or more individuals sustained bodily harm, or life was lost as a result of the collision. Call the highway patrol or a local law enforcement department. Even if everyone seems to be ok and you aren't sure if the property damage total will exceed $500 or not, protecting yourself with a call to the police is recommended. Auto body repairs are often over $500, and you or someone else involved in the accident may develop injury symptoms in the hours and days after a crash.
Sometimes people fail to report a crash because another individual pushes to avoid the call. But sticking up for yourself and reporting the collision is best for you, as you may not know why another does not want law enforcement to be called. Maybe they do not have a current driver's license or inadequate insurance coverage, things that should be on record should you decide to file a claim.
Know the Terms of Your Insurance Policy
Many insurance policies contain language stating that drivers are obligated to inform the insurance company if an accident occurs. That said, you do not have to engage in conversations with insurance adjusters that are representing others involved in the incident. If multiple insurance companies are contacting you, have a conversation with an Orlando personal injury lawyer about how you should be handling these requests.
Are you wondering what recovery options you have after an unreported car crash? Whether the police were called or not, there could be a way to obtain a full and fair recovery package. Documentation is an essential part of a personal injury claim. If you have not already gathered evidence, your attorney can do that for you. When you want to get your case started, reach out to the talented car accident attorneys at Israoui Law. Call Israoui Law at 407-381-4529 for the personal attention you deserve.