Car Wash Collisions And Injuries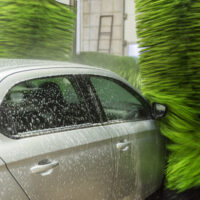 Automatic car washes provide a convenient service, they get cars clean quickly and efficiently, all while the individual is still in their car. But there are times when a person visits a Florida car wash, anticipating a fast visit and a clean car, only to end up sustaining car wash injuries. For example, one car may crash into another or there is an equipment malfunction causing harm.
Car wash collisions and equipment failures can lead to high expenses, from medical fees to lost income. Speak to an Orlando personal injury lawyer about your current expenses, future bills, and likelihood of financial recovery.
Conveyor Failures, Sign Issues, and Broken Windows
Sometimes, injuries are sustained because there is confusion within the car wash and one car drives into the other. If that is because signage was not functioning properly, the owner of the car wash could be fully responsible or carry a percentage of fault.
There are also times when a premise liability claim can be pursued if the car wash owner and operator was not keeping their businesses reasonably safe. This could be true if you were injured in one of the following ways, for instance.
Malfunctioning car wash equipment broke windows and injured the individuals within the vehicle.
A driver misjudged when to move forward because there was not appropriate signage and harm was sustained.
Conveyor was broken and the driver was stuck in the car wash. As a result, they exited their vehicle and were injured, either because the car wash unexpectedly started again or the person fell on a wet, soapy floor.
You may be offered cash in the immediate aftermath of a car wash injury. Another driver or the car wash owner may ask you to simply take the money and not bring the incident to the attention of insurance companies or law enforcement. While you may be tempted to accept, talk to an attorney to have your case fully reviewed before agreeing to any offer or signing documents. In the moments following an injury, determining the level of compensation you will need can be difficult to impossible. After all, you have yet to see a doctor to have your health assessed.
Business Owners and Liability
You don't have to determine who is responsible for injury expenses on your own, engage the expertise of an Orlando personal injury lawyer to learn what is possible given the unique details of your situation. Long-serving injury attorneys know when an offer is fair and when it is in the accident victims best interests to push for a larger amount.
Can I be compensated after being hurt in a car wash? The answer could be yes, bring the facts of your situation to the attention of a skilled Florida attorney. If you were offered a settlement amount, be sure that amount is full and fair. The accident attorneys at Israoui Law can review your case and determine if accepting a settlement offer or pushing back for a higher amount is optimal. Always speak to an experienced accident attorney before speaking to any insurance company.  Israoui Law at 407-381-4529 for the personal attention you deserve.