Steps To Organizing Documentation Following A Vehicle Accident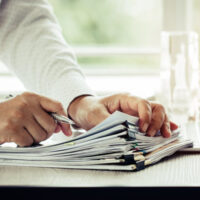 In the moments and days following a motor vehicle accident, thousands of things may swirl through your mind. Amid the chaos and confusion, you may be worried about your health and also have concerns about your financial future if you are facing an array of property and healthcare fees. Even when you feel out of control, there are steps you can take to streamline your recovery.
Whether you have already decided to pursue a personal injury claim or are still unsure if legal action or insurance negotiations are the next step, an Orlando personal injury attorney can guide you through the process, including the process of gathering and organizing accident-related documentation.
Documenting the Scene and Retaining Records
If it's safe to do so, take pictures and videos of the accident scene after a crash. Some of the views you will want to capture include photos of the vehicles and damage sustained to them, road conditions, traffic signs, and any relevant landmarks. Photographs provide valuable visual evidence later, should the accident need to be reconstructed so fault can be assessed.  Take the names and contact information for any witnesses.
Of course, you will need to ensure everyone's safety before you can even think about documenting the area. Ask people if they are ok, visually check for injuries, and call 911 if medical care is necessary immediately. For minor injuries or to have your health reviewed even though you do not see or feel any indications of physical harm, go to a hospital, urgent care center, or another licensed healthcare provider without delay.  Under Florida's No-Fault law, you have to see a doctor within 14 days from the date of the accident or you may lose your rights to claim up to $10,000.00 in medical and/or lost wage benefits.
Collecting and Organizing All of the Necessary Information
As you begin to gather accident-related documentation, such as medical records, bills, pictures, videos, and auto repair estimates, keep these items together. Creating a file folder, either physical or digital, is a great way to have all of the necessary information in one spot. This folder can also include police reports, witness statements, and any correspondence with insurance companies.
When recovering from an injury, it is advisable to keep a journal of your daily experience within your accident documentation folder as well. A clear, dated record of your pain levels, physical limitations, and how accident injuries are affecting day-to-day life could support your claim. Journals give outsiders an informative insight into the impact of the accident on your well-being.
While it is important to notify your insurance company about the accident, go into insurance conversations prepared. Always speak to an experienced accident attorney before speaking to any insurance company.  Keep in mind that insurance companies are not on your side, including your own insurance company.  An Orlando personal injury attorney can guide you through the process to ensure you receive the compensation you deserve.
Could staying organized support your claim? By following certain organizational steps and seeking professional legal guidance, you can improve your chances of receiving fair compensation for your injuries and losses. Talk to the lawyers at Israoui Law about your case to get started. Call 407-381-4529 for the personal attention you deserve.