Top 3 Questions Every Orlando Driver Should Ask After a Car Accident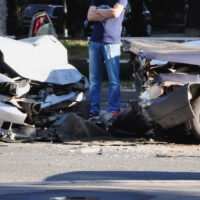 A car accident can turn a good day upside down. When a driver gets involved in a car accident, there are several questions that one should ask. The first question after a car accident is typically, "What do I do now?" Today, the car accident lawyers at Israoui Law offers more clarifying answers to common questions to help every Orlando driver in the event they become involved in a car accident.
Who Do I Call?
The first phone call should be made to 911 and the police, if possible. Your safety and the safety of passengers and other drivers is of the utmost importance after an accident. When the call to 911 is placed, this will result in the fire department and paramedics responding to the scene as well and providing any medical attention you may need for any injuries you sustained in the accident.
Wait for the police to arrive and allow the police to investigate the scene and gather any information needed to create a police report. Then, make your next call.
The next phone call should be made to an experienced Orlando car accident lawyer to help you understand your legal rights.  Although you are required to report the accident to your own insurance company, it is important that you understand your rights and how best to answer any questions and provide any information to your own insurance company.  At Israoui Law, we work with victims of accidents to ease the burden of having to deal with insurance companies. This includes reporting the accident to the victim's insurance company on their behalf.  Remember that insurance companies, including your own, are not watching out for you.  They are concerned about what they may have to pay for your accident, especially if you were injured in the accident and have sought, or will be seeking medical attention, for your injuries.  As such, you should not confide in the insurance company or trust that they will do what's right to protect your rights or counsel you on how to properly handle your claim.
What Information Do I Give My Insurance Company?
If you choose to contact your insurance company directly, the phone call you make will be crucial to your claim. Remain calm and provide them with truthful, simple, and concise responses.  You should carefully listen to their questions and only provide a response to what is being asked without volunteering information.  Insurance companies usually seek to obtain the following information, but are not limited to only this information:
Date of the accident
Time of the accident
The information (make, model, color, VIN number, owner, driver, etc.) of the vehicles involved in the accident
How the accident occurred
Location of the accident
Names of any other insurance companies and policy or claim numbers
Weather condition at the time of the accident
The police report number or police report, if in hand
Any citations issued
Location of damages to the vehicles involved in the accident
Whether any vehicles were drivable or were towed for the scene and current location of your vehicle
Passengers in the vehicles
Injuries, if any
Medical treatment obtained, if any
Names of any hospital, clinic or doctors in which you have obtained medical treatment related to the accident
Whether you were working at the time of the accident or have missed work due to the accident
Should I Pursue a Claim or Lawsuit?
Most often, a car accident can be settled with a claim to the insurance company.  Usually, an experienced car accident attorney will know how to properly submit your claim and recover just compensation for your loss.  However, if the car accident involves significant personal injuries, one has to consider that an insurance claim alone may not cover all of the damages incurred and expenses needed to recover and get back to living a normal life.
If the insurance company is lowballing and giving unreasonable settlement offers that don't add up to the level of bringing the person whole again, a lawsuit should be pursued.  It is well established that car accident victims that are not represented by an attorney receive less compensation than victims that are represented by an experienced car accident attorney. Insurance companies try to take advantage of accident victims that are not represented by attorneys, as the victims often do not know their legal rights or what just compensation for their case should be.  To discuss the worth of the case, the amount of compensation that can be recovered and the type of representation that is needed, one should seek the legal advice of a skilled personal injury attorney specializing in car accident lawsuits and claims.
Contact Us Today for Help
If you or someone you know needs to file a claim or lawsuit for a car accident involving personal injuries, contact the Orlando car accident lawyers at Israoui Law. We will work with you to fight for your rights and deal with the insurance company on your behalf while you heal from your injuries. We're available for you 24/7 and do not charge for the initial consultation. Give us a call at 407-381-4529 to discuss your car accident claim or lawsuit today. At Israoui Law, personal attention matters.
https://www.orlando-injury-lawyer.com/what-to-do-after-accident/