An Orlando Personal Injury Must: Go Hands-Free in Construction Zones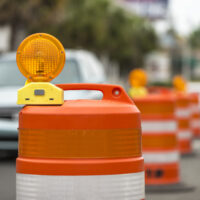 Florida is one of the top states for construction zone accidents, personal injuries and deaths. One of the primary reasons for construction zone accidents is distracted driving in the form of phone use. Phone use results in the inability to pay attention and be alert and aware of the slowed speeds and the location of construction workers. To counter this issue, a new mandate recently went into effect. Today, we will discuss this new mandate and the penalties that come along with it.
Florida's Hands-Free Mandate
As of October 1, 2019, the Orlando community and the entire state of Florida must go hands-free in construction zones. This means that it is now illegal to do the following activities:
Text while driving in a construction zone
Look at emails while in a construction zone
Hold your phone in a construction zone
The only way you can use your phone in a construction zone is by using a hands-free device or technology such as Bluetooth, where the sound comes through your car speakers.
As reported by an article in News 13, drivers can pick up their phones if the car is not in motion. For example, stop lights or when traffic comes to a complete stop.
The Hands-Free Mandate is Continuation of the Text Ban
It is important to note that this mandate is a continuation of the no texting while driving ban that was enacted earlier this year. This mandate applies to school zones as well.
So far, law enforcement is issuing tickets for violators of the mandate. Come January 1, police will begin issuing citations starting at $30 with the possibility of point reductions on their driver's license.
Extra Tips for Construction Zone Safety
The Federal Highway Administration states that construction zones play a significant role in the maintenance of our nation's roads. This is why it's important to practice safety within construction zones.
The statistics surrounding construction zones and accidents in Florida alone are alarming. Florida had a total of 71 fatal work zone crashes and 76 work zone fatalities in 2017. 16 of these work zone fatalities involved construction workers.
Besides going hands-free, there are additional steps that can be taken to ensure construction workers are safe while working in construction zones. A few safety tips are:
Reduce your speed
Do not tailgate
Adhere to construction zone signage (road work ahead, for example)
Use turn signals
Be aware of lights, sirens, and other emergency indicators
Do not change lanes in construction zones
Israoui Law is Here to Help You with Your Personal Injury Accidents
If you or someone you know is facing personal injuries received in a construction zone or work zone, contact the Orlando personal injury attorneys at Israoui Law. We will make sure to give you the personal attention and care you deserve. Additionally, we make ourselves readily available to speak with clients directly and handle every aspect of every case. Call our firm now at 407-381-4529 for a free case evaluation. At Israoui Law, personal attention matters.
Resource:
workzonesafety.org/crash-information/work-zone-fatal-crashes-fatalities/#florida
mynews13.com/fl/orlando/news/2019/09/30/florida-drivers-must-be-hands-free-in-school-zones
https://www.orlando-injury-lawyer.com/no-texting-and-driving-law-in-florida-seeks-to-prevent-car-accidents-due-to-distracted-driving/