No Texting and Driving Law in Florida Seeks to Prevent Car Accidents Due to Distracted Driving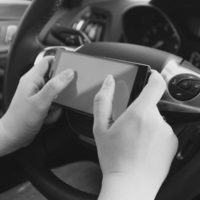 On July 1, 2019, Florida's new texting while driving law went into effect. The new law — Florida Ban on Texting While Driving Law — makes texting while driving a primary offense, meaning law enforcement can now pull you over for texting and driving. The new law seeks to prevent dangerous driving habits and car accidents on Florida's roads and highways, which occur due to driver distraction.
The next time you decide to reach for your cell phone while driving around Orlando, or any other part of the Sunshine State, you may want to think again. The Orlando personal injury attorneys at Israoui Law want to make sure you're doing your part to follow the rules, so here's some information you need to know about distracted driving and the new no texting while driving law. 
A Brief Discussion on Distracted Driving
According to the Florida Department of Transportation, distracted driving is anything that takes your attention away from the primary task at hand – driving. Distracted driving falls under three categories:
Manual: Taking your hands off the steering wheel
Visual: Taking your eyes off the road
Cognitive: Taking your mind off of driving
While cell phone use meets all three of these categories, a recent study by MIT reveals that the visual category of taking your eyes off the road is the key to distracted driving.
Because distracted driving is a common issue with the growing use of handheld communication tools, such as cell phones and tablets, the new law is in place to prevent distracted driving from happening. 
What is the Florida Ban on Texting While Driving Law? 
Florida Statute 316.305 states that you cannot operate a motor vehicle while:
Manually typing or entering letters, numbers, symbols or other characters into a wireless communications device – cell phones, tablets, etc.
Sending or reading data for the purpose of non-voice interpersonal communication such as texting, emailing, and instant messaging
The law also makes it illegal for you to hold a cell phone in a school zone or a marked construction zone.
It is important to note, the law does not apply to drivers who are working in a professional capacity such as emergency responders, law enforcement, fire rescue services or emergency medical services. 
What if I'm at a Red Light? Can I Text Then?
The law only applies when your car is in motion. But even at this point, texting is not recommended. 
What If I Need to Use My GPS or Weather App?
According to the new law, you will still be able to use your phone for purposes of navigation, reading weather and emergency alerts and making calls. 
The Penalties for Texting While Driving and How It Affects Your Driving Record
Orlando Police Department will start pulling you over if they see you texting and driving, but they will only issue a verbal or written warning until January 1, 2020. After January 1, 2020, the penalties are as follows:
1st offense: $30 fine
2nd offense: $60 fine plus court fees and three (3) points on driving record
A Simple Way to Prevent Texting While Driving 
The easiest way to prevent texting while driving is to follow the campaign by the Florida Department of Highway Safety and Motor Vehicles, the Florida Department of Transportation and the Florida Highway Patrol: Put It Down: Focus on Driving.
If You're Involved in a Motor Vehicle Accident due to Texting While Driving, Call Israoui Law 
Motor vehicle accidents are not as simple as they seem. The laws are complex and require the expertise of a motor vehicle accident attorney.
If you experience an accident due to distracted driving, the new no texting while driving law also states that if the motor vehicle accident results in death or personal injury, the cell phone billing records or statements from appropriate authorities receiving the messages may be used as evidence to determine whether a violation of the texting while driving law was committed.
Contact the Orlando personal injury attorneys at Israoui Law for help with your motor vehicle accident. We are dedicated to representing the injured and welcome the opportunity to discuss your potential case. For a free case consultation, call 407-381-4529 or contact us online.
Resources:
flhsmv.gov/safety-center/driving-safety/distracted-driving/
link.springer.com/epdf/10.3758/s13414-019-01795-4?author_access_token=VdznEInRPMVqnw8hunpI2ZAH0g46feNdnc402WrhzyqUkg8r13mAPugbgmzb-IGTpP_XMZR4cP7EUyD7_B4dBjAOCI3uBFewfxD09gzEj5cd1o5JBrJ3XM09P3YA4hmsWbM3_d8RI8hpz1zugBBiDQ%3D%3D
https://www.orlando-injury-lawyer.com/injured-at-an-orlando-amusement-park-why-you-should-request-a-copy-of-the-incident-report/