Benefits of Witness Accounts After an Orlando Accident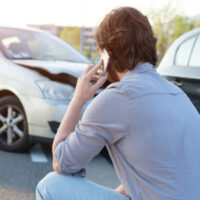 Personal injury cases can be complex. Sometimes liability can be established and victims are awarded compensation without witness accounts. That said, it is often beneficial to have witness accounts of an Orlando car accident. This is because a court of law views a witness as a neutral party, someone who will tell the story without having a stake in who is ultimately held liable.
It is best to collect witness accounts without delay as recollections can fade and details can be forgotten. When a person who witnessed a car accident you are involved in is willing to give you a witness account, accept the offer. It could be helpful should there be a dispute between you and the other driver regarding liability as time goes on.
If you have been in a Florida car accident, it is important to discuss your case with an Orlando personal injury lawyer. With experience and knowledge, they will be able to tell you what you need to build a strong case, including if witness accounts are needed.
Do I Find the Witnesses Myself?
After an accident, some victims have individuals willing to share an account approach them. Typically there are bystanders who want to help. If this happens, take them up on their offer. Collect the information they are willing to share.
Of course it is not always the case that an individual approaches you, but that does not mean it is impossible to collect a witness account. If you notice a person watching the situation, you could ask them. Or perhaps a police officer will be gathering witness accounts at the scene.
Also make sure to get the names and contact information for any witnesses. Once the information is provided to your Orlando personal injury lawyer, they will likely need to contact these witnesses. This can be crucial for your case.
Can Witnesses Be Dishonest?
There are times when a witness account cannot be trusted. Typically, there is a reason why.
Some of the reasons a witness account could be called into question:
If a witness has given different accounts of the situation to different people.
If the witness was involved in the accident and therefore distracted.
If a witness could benefit from the situation.
If the witness has made false accounts in the past.
There are also times that a physical issue experienced by the witness would discredit their account. For example, if they have extremely bad eyesight and their account features a visual detail that was far away from them.
Of course, when you are involved in an accident the first priority is your own health. If there was an injury, attend to that before worrying about any of the details that could follow, including the possibility of a lawsuit and witness accounts.
Would a witness account help your car accident claim? Find out. Contact the Orlando car accident lawyers at Israoui Law at 407-381-4529. Our experienced lawyers are familiar with all of the details associated with car accidents and how to secure compensation. At Israoui Law, personal attention matters.
https://www.orlando-injury-lawyer.com/the-victims-right-to-change-lawyers-during-an-orlando-personal-injury-case/