Sun Glare Accidents In Orlando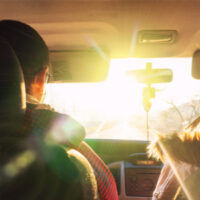 Florida is known for sunshine, and when the weather is full of sunlight drivers often view it as a great, safe day for driving. While it is true that rainy, inclement weather can cause accidents, there are times when glare from the sun causes car accidents, too. Precautions need to be taken to avoid sun glare when driving, for the safety of the driver, their passengers, and others on the road.
The Orlando car accident lawyers at Israoui Law can help individuals who have been in a car accident involving sun glare. There can be serious damages and injuries involved in sun glare accidents and determining liability can be complex. An attorney can help with insurance claims and lawsuits.
Sun Glare Precautions When Driving
Being able to see properly is a key component to driving safely so it makes sense that bright sunlight causes accidents in the early morning and late afternoon. The reason is the angle of the sun can get into a driver's eyes at those times of the day, making it difficult for a driver to see traffic signs, avoid other cars, and move safely around road risks.
Tips for avoiding sun glare from bright sunlight:
Purchase quality polarized sunglasses and keep them in your car so they are there when you need them.
Remember to utilize the sun visors in your vehicle and invest in other visors that are certified to not hinder visibility.
Make it a priority to clean your windshield regularly and keep your dashboard clear of anything that could create a reflection.
Avoid driving at times of day when the problem is at its worst or adjust route.
Some also find it beneficial to have their car windows tinted. A specialty auto business can adhere a thin film to tint the windows of a vehicle, which can reduce the amount of sun entering your vehicle. If you choose to do this, remember there are car window tinting laws in Florida that regulate how dark and how reflective car window tints can be. Check the laws first.
Driver Liability and Sun Glare
When an accident happens, even if sun glare was the reason, the diver could be liable. The sun may have been one of many reasons an accident occurred. Orlando car accident lawyers can assess the information and determine liability so compensation can be secured.
Settlement offers for car accidents or other personal injury issues should not be accepted without legal review, even if sun was an issue. There could be other issues and the reason the accident happened may not be easy to determine. Talk to an attorney to protect yourself.
Car accidents due to sun or rain can result in injuries that require doctor visits and extensive car repairs. To schedule a complimentary consultation, contact the Orlando personal injury attorneys at Israoui Law at 407-381-4529. Our experienced lawyers are familiar with all of the details associated with car accidents and how to secure compensation. At Israoui Law, personal attention matters.
https://www.orlando-injury-lawyer.com/how-to-increase-your-compensation/