Car Injuries That Require Sutures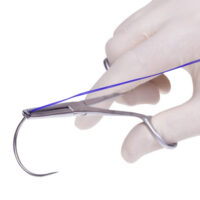 Because there are a wide range of Florida car accident injuries possible, a variety of medical procedures could be required as well. For instance, some injuries require sutures, stitches, and staples. When the skin is lacerated, these skin-closing procedures are essential to promote proper healing, avoid infections, and prevent further complications.
While healthcare after a car accident is paramount for an individual's health, the reality is the financial burden of accident injuries can be overwhelming. If you were involved in a collision and sustained an injury that required sutures or other forms of medical care, talk to an Orlando personal injury attorney about how to obtain financial compensation.
Sutures and Other Wound Closing Procedures
Car accidents and other injurious events can cause various types of physical harm, some of which may require sutures for proper wound closure. Here are a few common accident injuries that often necessitate skin-closing procedures:
Deep cuts or lacerations. During the course of a car crash, it is possible for sharp objects to penetrate the skin, resulting in deep cuts and lacerations. Sutures are typically required to bring the edges of the wound together in order to facilitate healing.
Harm to the face. Broken glass and airbag deployment can lead to facial injuries that may require sutures. These injuries could even result in visible scars, so a medical team may need to employ multiple stitches or meticulous suturing techniques to achieve optimal cosmetic results.
Head injuries. Severe head trauma, such as skull fractures or deep scalp wounds, require sutures to close the wound and prevent further complications, such as infection or excessive bleeding.
Limb injuries. High-impact collisions can cause fractures, deep cuts, or avulsions to the arms or legs. Suturing these injuries is crucial for proper wound management, minimizing scarring, and allowing the affected limb to heal effectively.
Recovering from skin-closing procedure injuries can be physically, emotionally, and financially challenging. By seeking the assistance of an experienced injury lawyer, accident victims can focus on their recovery while their legal representative fights for their rights and helps them obtain financial compensation for sutures and other necessary treatments.
Building a Case and Calculating Damages
As soon as you connect with an Orlando personal injury attorney they will begin to gather evidence in order to establish liability and demonstrate the extent of your injuries. This evidence will strengthen your case and increase your chances of receiving the compensation you deserve.
Next, your attorney will assess your medical fees and any lost wages to help you calculate the appropriate amount of compensation needed to cover these expenses or losses. Handling negotiations on your behalf, your lawyer will work to ensure that the insurance company recognizes the severity of your injuries and the financial burden they have caused. Always speak to an experience Orlando accident attorney before speaking to any insurance company.
What level of financial responsibility should you shoulder after a skin-closing procedure due to an accident injury? Don't hesitate to consult with a trusted attorney who can provide the support and advocacy you need. Talk to the attorneys at Israoui Law. To get started, call at 407-381-4529 to schedule a fee-free consultation and connect with the personal attention you deserve.