EMT Records Could Strengthen Your Injury Claim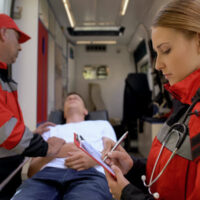 The first responders at Florida car accidents are often Emergency Medical Technicians (EMTs). EMTs are professionals who play a critical role in providing medical care to injured individuals. Immediate care is given as well as transportation to area hospitals, if more care is needed. Their role in the healthcare system is truly to provide life-saving care.
When seeking damages after an accident injury, EMT treatment records could support your personal injury claim. A seasoned Orlando personal injury attorney can help you obtain EMT records, and walk you through different ways to strengthen your chances of securing a maximum settlement amount. Always speak to an experience Orlando accident attorney before speaking to or providing any records to any insurance company.
Who Are EMTs and What Type of Records Do They Keep?
Commonly known as EMTs, Emergency Medical Technicians are trained to assess and stabilize patients at the scene of an accident or emergency, they are essentially providers of pre-hospital care. Of course the healthcare support they provide will depend on the situation, but they generally administer vital medical treatments, give medication, immobilize injuries, and transport patients to the nearest medical facility so they can access more extensive healthcare support.
And just as other healthcare professionals document treatments, EMTs maintain detailed records of the treatment they provide, including information about the event itself, the patient's condition when the EMTs arrived at the scene, medical interventions performed, and any additional observations. These records are essential so that the healthcare professionals at a hospital are able to provide care continuity.
How Can I Obtain EMT Records?
After an accident injury, EMT records may be attached to your medical record as supplemental documentation, but if it's not, there are steps you can take to access EMT records.
Find out which EMT service provided care. Identifying which emergency medical service responded to your incident is essential. Possibilities include a private ambulance service, a fire department, or a local public emergency service, for example.
Contact the organization. Then, reach out to the emergency service and request the records related to your incident. To do this, you will likely need to provide them with the date, time, and location of the accident, as well as information about yourself.
Follow requested protocol. There may be specific protocols for requesting records that are unique to the service provider. Follow these instructions, whether that involves completing a formal request form or providing proper legal identification to prove you are who you say you are.
Of course, an Orlando personal injury attorney can go through the process of obtaining and utilizing EMT records for you. Your lawyer can also review your case and determine if EMT records are needed to establish the severity of your injuries or be clear evidence of the harm you sustained being a direct result of the incident in question.
Could EMT records be the evidence you need to access monetary recovery? Navigating the legal complexities of a personal injury claim can be confusing, especially when dealing with medical records, but the lawyers at Israoui Law have the experience you need. Call 407-381-4529 for the personal attention you deserve.