Dangers Of Motorcycle Wheelies And Stoppies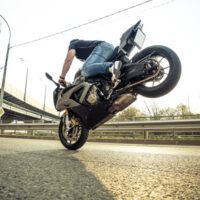 Motorcycle enthusiasts often describe riding their cycles as an exhilarating experience. Which makes sense, motorcycles offer a sense of freedom and adventure, but motorcycle operators also need to understand the potential dangers, including escalated risks associated with performing stunts like wheelies and stoppies.
Tricks can lead to injuries, and if this has been true for you, talk to a seasoned Orlando personal injury attorney about your damage recovery options.
Popularity of Motorcycle Riding and Staying Safe
With its warm climate and beautiful views, the Orlando area has become a hot spot for motorcycle owners and vacationers riding through on their bikes. Scenic routes, vibrant biking community, and numerous motorcycle events have increased motorcycle popularity in the sunshine state. While this is a positive development for many, there has also been an increased need for motorcycle ridership responsibility.
Motorcycle tricks, such as wheelies (lifting the front wheel off the ground) and stoppies (balancing on the front wheel while the rear wheel is elevated), are common stunts for thrill seekers, but these maneuvers significantly increase accident risks. Accident dangers elevate during stunts because performing wheelies or stoppies alters the balance of the motorcycle, which could lead to loss of control and injuries.
To mitigate the risks associated with motorcycle riding, it is crucial for riders to avoid the temptation to perform tricks. Also, they can prioritize safety in the following ways:
Protective gear. Consistently wear an approved helmet, appropriate riding clothing, gloves, and boots.
Maintain the bike. Motorcycles should regularly be inspected for any possible issues, such as concerns with signals, lights, tires, or brakes.
Pay attention to traffic rules. Follow speed limits, give others vehicles enough space to maneuver safely, and use turn signals and check blind spots when changing lanes.
Ride sober. Never get on a motorcycle when you are under the influence, riding a bike safely requires focus, balance, and coordination.
And if despite taking all necessary precautions you were still injured in an accident, promptly seek medical assistance, even if your injuries appear minor.
Bring the Accident Documentation to an Attorney
While the allure of motorcycle tricks, such as wheelies and stoppies, is a reality for many, it is crucial to recognize the inherent dangers they pose. This means avoiding doing tricks, staying clear of individuals who are performing stunts in order to keep yourself safe, and getting immediate medical care if you are unable to stay out of harm's way.
Injured individuals should follow treatment plans to the letter following a motorcycle injury. Then, connect with a Orlando personal injury attorney who specializes in accidents. They will analyze the evidence you have, evaluate your case, guide you through the legal process, and help you pursue compensation for medical bills, lost wages, pain and suffering, and other damages.  Always speak to an experience Orlando accident attorney before speaking to any insurance company.
Were you injured in a Florida motorcycle accident? If you or a loved one suffered a motorcycle accident injury, consult with the injury attorneys at Israoui Law in order to seek the compensation you need to settle your accident expenses. For the personal attention you deserve, call 407-381-4529.