Seat Belt Safety For Pregnant Women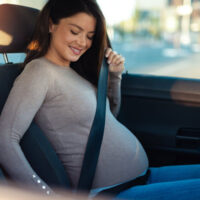 Pregnancy is a time of anticipation, and it's also a period of time when expectant mothers take great care to prioritize safety. Because motor vehicle accidents can occur at any time, pregnant women need to keep crash injury risks in mind as if they are traveling in cars or trucks throughout Florida. One crucial step to ensure the safety of both a mother and her unborn child is to wear a seatbelt.
If you are an expectant mother who followed all the safety measures you could but still sustained a Florida car accident injury, seeking immediate healthcare is essential. Do not put off medical care. Then, once your treatment plan is in place, talk to a seasoned Orlando personal injury attorney about how to obtain a recovery amount that will settle all of your accident injury expenses.
Seat Belt Safety Tips for Expectant Mothers
There are some who do not want to wear a safety belt when pregnant because of the pressure the belt puts on their abdomen, but to travel safely pregnant women should simply adjust how they wear their seatbelt. The lap belt should be positioned across the hips, below the belly, and fit snugly against the thighs. Then, the shoulder belt should rest securely over the shoulder, without placing pressure on the belly.
And if you are pregnant, pay attention to how your body is changing throughout your pregnancy and adjust your positioning so you can sit comfortably and still have access to controls while driving. For instance, pregnant women may need to move their driver's seat back in order to create more space between their belly and the steering wheel.
Wearing a seatbelt is a key safety step for everyone, whether they are pregnant or not. A safety belt reduces the risk of severe injury or ejection from the vehicle should an accident occur. Also, seat belts are designed to distribute force in the event of vehicular impact, allowing the strongest parts of the body to bear more pressure which can minimize the risk of trauma. For pregnant women, a properly worn seat belt ensures the mother's body absorbs most of the impact, reducing the risk of placental abruption and other maternal injuries.
Consult an Attorney for Maximum Compensation
While wearing a seatbelt greatly reduces the chances of severe injuries, there is no way to avoid all vehicular accident injuries when traveling in a vehicle. If a person, including a pregnant woman, sustains injuries in an auto collision, connect with Orlando personal injury attorney in order for a maximum compensation amount to be pursued.
Is obtaining an accident recovery settlement in your future? Insurance companies may attempt to settle your claim quickly for the lowest amount possible. Having an attorney by your side ensures that your rights are protected. The injury attorneys at Israoui Law can negotiate with insurance adjusters to secure a fair amount that covers medical expenses, lost wages, pain and suffering, and any other damages resulting from the accident. Call 407-381-4529 today for the personal attention you deserve. Always speak to an experience Orlando accident attorney before speaking to any insurance company.