Child Safety Seats Protect Kids On Florida Roads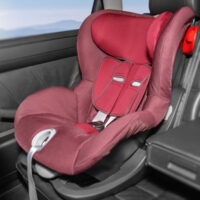 When it comes to traveling by car, ensuring that little ones are securely strapped in a safety seat is an essential part of keeping kids safe. In Florida, there are specific requirements for car seat and booster seat use. Additionally, adults need to recognize when child car seats need to be replaced in order for these safety seats to be as effective as possible.
If you were involved in a collision and had a safety seat in your car, truck, or van, the cost of replacing the seat or booster could likely be part of your financial recovery package. Connect with an Orlando personal injury attorney to learn about your accident expense recovery options.
Florida Requirements of Child Car Seats and Booster Seats
According to Florida law, all children who are five years old or younger must be secured in a federally approved child restraint device while traveling in a motor vehicle. Here are the specific requirements by age and weight:
Babies need to be secured in a rear-facing car seat until they are one year old or weigh 20 pounds.
Toddlers and preschoolers. Small children who are between the ages of one to three years must ride in a car seat with a five-point harness in a forward-facing position.
School-aged kids. When children are four and five years old, they must travel in a booster seat until they reach the age of six.
Discussing the specifics with your child's pediatrician is also advised as the size and weight of a child can impact whether and when they can safely transition from one type of safety seat to another, from a car seat to a booster seat, for example. Parents and caregivers have a responsibility to understand and adhere to car seat guidelines, to both protect young children and to avoid legal consequences.
Replacing Car Seats After a Collision
Following a Florida car accident, the car safety seat integrity may be compromised. This can even be true when there is no visible damage. Seat efficiency can be reduced as the force of a collision can weaken the structure of the product, rendering it less effective in providing protection. Replacing all child safety seats after any accident, regardless of its severity, is recommended.
If you are feeling overwhelmed by all of the unexpected collision expenses you are facing, including car safety seat replacements, talk to Orlando personal injury attorney. All or most of the costs you are incurring may be able to be included as part of a personal injury recovery package. An experienced attorney can help you pursue compensation for car seat replacement costs, medical fees, pain and suffering, lost wages, and future expenses. Always speak to an experience Orlando accident attorney before speaking to any insurance company.
Are you seeking information on child safety following a FL collision? First steps include following Florida's requirements for safety seats and replacing them after an accident. To discuss ways to have your accident expenses covered, talk to the attorneys at Israoui Law for the personal attention you deserve. To schedule an initial, fee-free consultation, call 407-381-4529.