Compensation For Broken Bone Injuries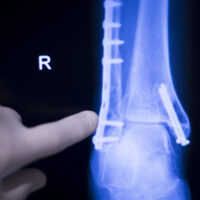 If you have been diagnosed with a fracture after a Florida car or motorcycle accident, you have broken a bone. Whenever bone continuity is broken, it is a fracture. This is true if you sustained a hairline fracture that is hard to see on medical scans or is an extensive shattering in need of long-term treatment plans or surgery.
Swelling, odd placement, pain, and tenderness are all symptoms of a bone break. It is also common to feel faint and nauseous. Having your injury assessed immediately is essential, whether you suspect a bone break in your leg, arm, or other areas of your body. There are urgent care facilities, and emergency rooms on hand to see you right away. Some are able to connect with their primary care doctors, orthopedic physicians or neurosurgical experts without delay as well.
Experienced Orlando personal injury lawyers understand how significant bone injuries can be, including the possibility of long-lasting health conditions such as tendinitis or arthritis. You need a full financial package that will cover your past expenses, current costs, and any fees you will have in the future in connection with your accident injury.
Surgery, Scarring, and Other Items Eligible for Compensation
Physical health is a key component to living a full life, and so it is important that a person who has sustained a bone break is able to heal as much as possible after a car accident, truck collision, or motorcycle crash. When another was careless or negligent, compensation is possible and funds could be accessed for a variety of expenses, including the following.
Surgical care bills
Future healthcare needs
Scarring or any disfigurement
Lost income or future wage loss
Pain, suffering, and emotional distress
The full range of expenses may not be clear. For instance, one doctor could put on a cast and give you one timeline for recovery and a recommendation to see an orthopedist. Then, once you see the specialist, it may come to light that the fracture is far more significant and surgery will be required.
Knowing When to Accept a Florida Settlement
The majority of personal injury disputes are resolved through a settlement agreement rather than going to a Florida court. Accepting an amount needs to align with your needs though, it is not in your best interests to agree to a settlement that won't make you whole following an accident injury. An Orlando personal injury lawyer will look over the evidence and inform you of the worth of your claim. Then negotiations can continue until a fair amount is obtained.  Always speak to an experienced accident attorney before speaking to any insurance company.
Did you break an arm or leg in a Florida accident? Recovering from a fracture can be stressful, but the Orlando personal injury attorneys at Israoui Law can fight for your need for compensation while you focus on caring for yourself and recovering. Our skilled Florida personal injury lawyers have worked on many accident claims involving bone breaks and will use the skills on hand to negotiate on your behalf. If you are concerned about medical expenses after a vehicle crash, call 407-381-4529.  Turn to Israoui Law for the personal attention you deserve.