UM Coverage And FL Accident Recovery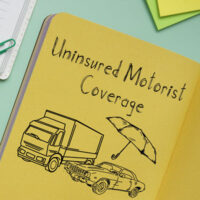 When you are obtaining auto insurance coverage, you will be given a lot of different policy options.  Too many times, insurance companies and their agents tell car owners that they are purchasing "full coverage," when they are reeling only buying basic insurance coverage permitted by Florida law.  One of the decisions you will need to make is if you want to purchase uninsured or underinsured motorist coverage which is commonly referred to as UM. This can be a good option for some people as it typically isn't an expensive addition and can give you a lot of protection if you are struck by a person driving a vehicle with basic insurance coverage or without  any insurance coverage at all.
It is an unfortunate reality that many are driving on Florida roads and highways without any insurance or with far too little coverage. If you have been involved in a collision with one of these uninsured motorists and are now facing a mountain of bills or wage loss, talk to an Orlando car accident lawyer about damage recovery.
Understanding PIP and UM
Under Florida's No-Fault law, you are required to have personal injury protection (PIP) is part of a Florida auto insurance policy and this coverage carries a limit of ten thousand dollars with a possible deductible of up to one thousand dollars.  This may not be enough to cover your expenses following a collision. For this reason, many opt for UM coverage, which allows them to access funds from their own policy if they are in an accident with an uninsured driver or an at-fault driver that does not have sufficient or basic insurance coverage.
Another potential advantage of UM protection is that there is often a longer deadline for filing than the set statute of limitations for a FL negligence lawsuit. In FL, the statute of limitations for filing a lawsuit is four years while UM coverage filing timelines are typically five years from the date of the incident.
When a Lawsuit Makes Sense
Relying on PIP only gives you so much relief, and if you opted against UM coverage when you obtained your auto insurance you may need to pursue funds through legal action if your PIP coverage is far too low to cover your accident injury expenses. It is common for fees, expenses, and costs to extend past the limits of an individual's policy.
Negligence needs to be proven in order to win a legal suit, and this is true for accidents involving uninsured motorists or underinsured drivers as well. An Orlando car accident lawyer can assist you with gathering proof that a driver did not follow Florida traffic laws or was distracted, leading to the injurious crash.
Navigating a personal injury lawsuit on your own can be stressful, connecting with an experienced attorney means a professional can identify any weaknesses in your suit and total up all your past, current, and future expenses, both economic and noneconomic, to be sure you are receiving a full just compensation amount.
Do you require legal guidance after being struck by an uninsured driver in FL? Negligent parties can be held accountable, a skilled Orlando personal injury attorney at Israoui Law can advise you on the next steps you should take. Reach out today to have our attorneys assess your case and determine the best strategy to secure a full and fair compensation package. We will negotiate with insurance adjusters and push back on low offers. When you are ready to secure the financial recovery you need, call 407-381-4529.  Always speak to experience car accident attorney before speaking to any insurance company.