Damaged Property Expenses And Your Financial Recovery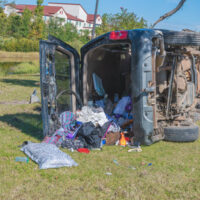 Naturally making sure you are not hurt is the first priority following a collision, but once that has been established you may have other stresses and worries to navigate. For instance, your car may need to be replaced. There may have been personal items in the vehicle that have been destroyed and maybe you need to spend money in order to continue your lifestyle while you figure out next steps, such as ordering rideshare vehicles daily or deciding to rent a vehicle.
Not all auto accident property bills are eligible for compensation, but there could be a way to get some of your expenses settled, depending on the facts of the collision and what insurance policies are in place. Do not take the word of others as the final say, it is possible the person telling you there is no path to recovery is simply trying to shield their own pocketbooks. Connect with an Orlando personal injury lawyer to understand your legal rights under Florida law.  Always speak to an experienced accident attorney before speaking to any insurance company.
Two Types of Claims
When you decide to move to receive property damage compensation, recognize there are two separate parts of insurance claims. Your own property insurance coverage is one, and the other is the insurance policy of the other driver involved in the collision.
To receive compensation from the other driver's policy, a property damage claim must be filed and an estimate of the damage to your vehicle must be obtained.  An insurance adjuster will be assigned to the claim and will begin investigating your claim.  This is a process that could take time.
The faster route could be filing with your own insurance if you have purchased collision coverage under your policy. Since it is your policy, there is likely a deductible you will need to pay. So while this is typically a quicker process, there is a financial impact that needs to be considered.  If your insurance company pays for the damage to your vehicle, they will then seek reimbursement for what they paid, plus your deductible from the at-fault party or the at-fault party's insurance company through a process called subrogation.
Discuss Your Case with an Orlando Car Accident Attorney
Connect with an experienced Orlando personal injury lawyer. There are deadlines that need to be followed and guidelines about when and how property damages can be pursued.  An attorney will work to secure the best outcome for you given the specifics of your situation.
Reaching out as soon as possible is advised as there are statues in limitations set. In the state of Florida, this is set at four years. That means you have 48 months to reach a claim settlement or file the paperwork to take legal action in court. If you are pursuing monetary funds from your own collision policy, there could be deadlines that need to be followed within the language of the policy as well.
Have you been receiving high estimates to repair or replace your property? Expenses can be high following Florida car accidents, and not all of the bills are connected to physical injuries. You may have a range of recovery options. To learn more, reach out to the best car accident attorneys at Israoui Law. A compensation award could be possible, or legal action could be considered. Call Israoui Law at 407-381-4529 for the personal attention you deserve.  Only pay attorney fees and costs if we win.  Consultations are free.