What To Do If Offered Cash After An Orlando Car Crash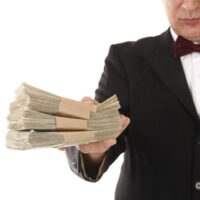 Immediately after a car crash, it can be difficult to think clearly. You may notice some damage to your vehicle and feel a small pain in your neck but do not believe that your property bills or medical fees will be high. But you don't know what the total of your damages will be, and if another driver offers you cash and you accept it, it may be impossible for you to access the full recovery you need later.
Why an at-fault Orlando driver would offer you cash depends on the situation. Some drivers offer cash because they don't want their insurance premiums to increase, which could occur once the accident is reported. Or maybe there was criminal behavior and the person suggesting a cash transaction doesn't want law enforcement to be called. Having your accident properly documented is a key component to a successful insurance claim. Talk to an Orlando personal injury lawyer about your situation to achieve the most favorable outcome for you and your family.  Always speak to an experienced accident attorney before agreeing to accept any money or communicating with any insurance company.
No-Fault Benefits for Florida Drivers
In the state of Florida, drivers must carry personal injury protection (PIP) coverage. This type of insurance coverage allows individuals who have been hurt in a car collision to access monetary benefits to pay medical fees regardless of who was the at-fault party. In order to access this benefit, the accident must be reported. Accepting cash in exchange for not reporting a crash could put your access to PIP recovery at risk.
Adrenaline surges and elevated stress levels in the moments following a collision mean all accident injuries may not be immediately noticed. Some believe that a stiff neck or other pain will pass in the coming days, only to experience more symptoms as time goes on. Strained muscles, fractures, and other medical issues may not be discovered until you go see a doctor.
Protect Your Health and Your Finances
Having your health assessed by a licensed medical professional after a Florida crash is essential. The sooner you are diagnosed and have a treatment plan in place, the faster you will likely heal. And every medical appointment you attend could be valuable evidence should you need to access financial recovery to cope with ongoing doctor fees, medical test expenses, and physical therapy costs.
Cash offers may bring short-term satisfaction, but the long-term consequences can be harmful to your health and your family's finances. Before agreeing to any settlement, offered by an insurance adjuster or another driver involved in the crash, talk to an Orlando personal injury lawyer.
Is the temptation to accept cash instead of reporting an accident nagging at you? Do not make a choice that will impact your long-term financial recovery. A seasoned personal injury lawyer can share financial recovery options with you, including insurance settlements and legal action. To learn more, connect with the injury attorneys at Israoui Law. It is common for accident expenses to climb higher than originally believed they would, be sure you have all the facts before agreeing to a settlement amount. Call Israoui Law at 407-381-4529 for the personal attention you deserve. Only pay attorney fees and costs if we win.  Consultations are free.