Do I Need Collision Coverage?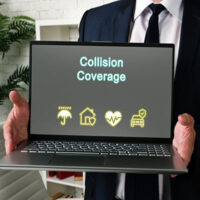 Like many purchases, when it comes to buying auto insurance, you have options. There is a minimum amount of coverage that is required legally in the state of Florida but there are also additional protections you can add to your base policy. How much insurance you want will depend on your risk tolerance and your financial situation.
When you are weighing the pros and cons of collision coverage, it can be helpful to simply think of collision coverage as coverage for property damage in the event of a vehicular crash. This type of coverage could help you pay for repairs to your own car or truck after an accident. If you need guidance on how to access monetary settlement following a FL collision, connect with an Orlando personal injury lawyer.
When You Want Collision Coverage
It is important to understand that your collision coverage provides funds for your own vehicle repairs. It is not used to fix vehicles owned by other parties involved in a traffic incident.
You may be grateful you opted into collision coverage in any or all of the following situations:
Your car was damaged in an accident and the at-fault party fled the scene, leaving you without the information you need to hold them responsible for the property damage.
After an accident in which you were the at-fault driver, your vehicle is damaged or deemed totaled by an insurance company.
Another driver is negligent, but they have no insurance coverage or limited coverage and you need funds for vehicular repairs or replacement.
The other driver's insurance is slow or unresponsive, and relying on your own insurance makes the process of having your car repaired smoother and more efficient.
Naturally, if you are in a financial situation where you can afford to repair or replace a car without a settlement, that could impact your choice to purchase or forgo collision coverage.
When a Car Is Leased or Financed
While collision coverage is not a state requirement, there are times when an agreement will make it mandatory. This could be true for you if your car is leased or financed, for example. If you financed your vehicle and have collision coverage as a result, you could choose to maintain or drop that extra coverage once your vehicle loan is paid off.
Considering if you can afford repairs or to buy another vehicle, if needed, is an important part of the collision coverage decision making process. If you need your car and don't have enough savings to cover a large repair, opting into collision coverage could be advantageous.
Is an insurance question nagging you or you need legal assistance after an Orlando car accident? There are seasoned personal injury lawyers available who will fiercely fight for your rights, whether that process happens through insurance negotiations or in a Florida court. If you or someone you love needs guidance after a vehicular event, connect with the injury attorneys at Israoui Law. Always speak to an experienced accident attorney before speaking to any insurance company.  Call Israoui Law at 407-381-4529 for the personal attention you deserve.