FL Laws About Wireless Communication And Driving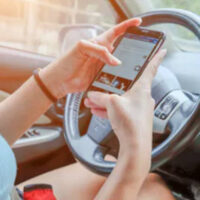 It is well understood that texting while operating a vehicle is a form of distracted driving. People have been hurt and have had to cope with extensive property damage as a result of being struck by a driver who was paying attention to their phone instead of focusing on the task of driving. Because of this, Florida enacted the Wireless Communication Law in 2019. The law is a way to help keep Florida roads and streets safe, for drivers, bicyclists, pedestrians, and others.
Seeking compensation after a distracted driving accident is not always simple. But an Orlando personal injury lawyer can provide you with the legal support you need, including negotiating with insurance adjusters on your behalf. In some situations it also makes sense to file a civil suit against the at-fault motorist. This would be separate from criminal charges the driver could be facing if they broke traffic laws.   Always contact an experience accident attorney before speaking to any insurance company.
Citations, Warnings, and More
When it comes to the Wireless Communication Law, essentially you are not allowed to operate a vehicle while adding chargers, numbers or symbols onto your wireless device. This applies to emails, texts, and instant messages. If you are pulled over for texting while driving, a citation is possible.
Additionally, there are extra precautions in school zones and occupational zones in order to protect students, teachers, and street construction workers doing their jobs. In school and work zones, you are not permitted to use a handheld wireless device for any reason. Warnings and other penalties would follow if you are spotted engaging with your device in these protected zones.
First time offenders will usually have to pay court fees and a $30 fine. Individuals who are repeat offenders will find themselves in a situation where fines are higher and license points could be included in your penalties.
Wireless Device Usage Exceptions
Because people use their phones and handheld devices for a range of reasons, there are exceptions. For example, if you are using your devices as a navigational tool, you won't receive a citation. That said, if using a GPS system irresponsibly leads to an accident, consequences would follow.
Each circumstance needs to be addressed individually. Do not make assumptions about if you are at fault or how much your claim is worth based on a friend or family member sharing there experience with you. Laws change, investigations can bring new information to light. To protect your interests, talk to an Orlando personal injury lawyer.
Do you need monetary recovery after being injured because another driver was texting while operating their vehicle? Distracted driving cases are common, but the negotiations and court appearances that follow require an attention to detail and the expertise of a seasoned lawyer. When you are ready to get your case started, reach out to the Orlando personal injury attorneys at Israoui Law. There are Florida laws to protect the public and ensure they receive justice when things go wrong. Call 407-381-4529 and connect with the professionals at Israoui Law for the personal attention you deserve.  Only pay attorney fees and costs if we win.  Consultations are free.