How to Protect Yourself from Drivers with Road Rage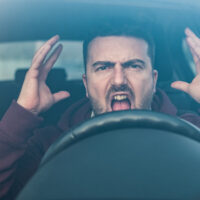 An insurance comparison company recently reported that many Americans acknowledge that they have aggressively driven or experienced road rage in the last 12 months. Specifically, 82% of the drivers surveyed admitted these actions. Aggressive, angry drivers can be the cause of car accidents; crashes that can cause serious injuries and harm.
If you have been in a Florida car accident, talk to an Orlando car accident lawyer. And before an accident happens, try to protect yourself from injury by avoiding road rage drivers on the road.
Noticing Signs of Angry Drivers
When a driver is upset, they are a risk to others. This is because their anger can fuel the urge to drive at high speeds and ignore the safety of others on the road.
Driving angrily can include the following:
Moving through traffic recklessly
Using a car horn repeatedly and excessively
Driving too close to other vehicles
Exhibiting indecent gestures or screaming obscene language
There have even been road rage crashes after a driver becomes upset with one particular driver. From there, the aggressive driver may get out of their own vehicle and approach the other at a stop light or cut the other driver off in traffic.
Ways to Protect Yourself
If you notice someone showing signs of aggressive driving, give the car space to move away from your car, allowing them to pass if they are acting impatient and reckless. Avoid eye contact and refrain from responding to any obscene language or gestures.
Behave as a calm, safe driver yourself. That means no tailgating and no cutting off others. Your peaceful, serene behavior could diffuse a road rage event. Try to leave on time for appointments so you won't feel rushed and drive like someone is in the car with you, even if you are driving alone. Acting like someone else is in the car is a way to help individuals drive calmly and keep their emotions under control.
Of course, if an aggressive driver will not leave you alone and continues to be a threat on the road, seek help. If you stop, do it at a location that is public and well lit to avert the possibility of the driver with road rage approaching you and starting a physical fight. When a situation feels reckless or dangerous, call the police. If an accident does happen, contact an Orlando car accident lawyer right away.
Road Rage Remorse
Often, road rage drivers will feel bad about what happened when their emotions settle. Unfortunately, if an accident happens, their remorse only appears after the damage has been done. Injuries from car accidents can mean large medical bills, lost wages, pain and suffering, and lifelong effects. Do not accept their settlement offers without talking to a lawyer.
After a car accident, you need an experienced lawyer on your side. To schedule a complimentary consultation, contact the Orlando personal injury attorneys at Israoui Law at 407-381-4529. Our experienced lawyers are familiar with all of the details associated with car accidents. At Israoui Law, personal attention matters.
https://www.orlando-injury-lawyer.com/the-victims-right-to-change-lawyers-during-an-orlando-personal-injury-case/