Should I Take an Ambulance After an Orlando Car Accident?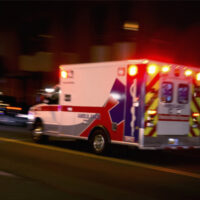 If you have been in a car accident in Florida, but feel that you were not injured severely, you may be wondering if you should take an ambulance to the hospital. Before you dismiss an ambulance because you are not gravely injured, know there are circumstances when transportation via ambulance is the best way for you to take care of your health. Plus, it may protect you if a lawsuit  or insurance claim is made as a result of the accident.
Sometimes people are injured in ways they do not recognize in the immediate aftermath of an accident. Having a doctor assess your health as soon as possible can be helpful for you and your personal injury lawyer later, when you are connecting your injuries to the event. Talk to an Orlando auto accident attorney to understand your rights.
Doctor and Medical Professional Assessments Are Important
There can be a rush of adrenaline when individuals are in traumatic situations such as vehicle accidents. People can react in unpredictable ways, such as deciding they need to rush to an appointment rather than fully coping with the aftermath of the accident. But it is important to take care of yourself.
When injuries happen, they are not necessarily immediately apparent. An injury that first seems minor grows as days and weeks pass. Having your injuries assessed right away provides the needed documentation connecting the injury to the accident. And if there is a problem you were not aware of, it can be treated properly right away.
Taking Yourself to the Hospital When Injured Is Hazardous
When individuals who were injured in a vehicle accident decide to drive themselves to the hospital, it can be hazardous. Both to themselves and others. What if a condition intensifies and the person can no longer control the car?
Also, when you take an ambulance, the paramedics are familiar with the hospitals in your area. If you are in need of specialized care, they are able to take you to the best destination. This is essential, particularly if your injuries are much, much worse than originally thought.
Problems in a personal injury case can be created if it comes to light that an individual initially refused an ambulance at the accident site. An attorney or an insurance company could claim the refusal was because the injuries the person experienced are not directly related to the accident or were so minor that they did not require any treatment.
Examples of injuries medical professionals should evaluate as soon as possible after an accident:
Bleeding and lacerations
Back, chest, and neck pains
Headaches
Knees and shoulder pain or discomfort
Confusion, blurry vision, and lightheadedness
Accidents can result in whiplash, muscle strains, broken bones, injuries to the spine, and much more. Taking care of your health is the first priority. Then, with legal professionals on your side, you can secure the compensation you deserve.
Even minor accidents can result in injuries and extensive car repairs. To schedule a complimentary consultation, contact the Orlando car accident lawyers at Israoui Law at 407-381-4529. Our experienced attorneys are familiar with all of the details associated with car accidents and how to secure compensation. At Israoui Law, personal attention matters.
https://www.orlando-injury-lawyer.com/what-to-do-when-you-are-in-a-multi-car-accident-in-orlando/