What to Do When You Are In a Multi-Car Accident In Orlando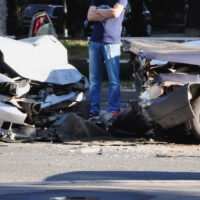 Nobody expects to be in a car accident, but they occur everyday in Orlando and across the country. In fact, the Florida Highway Safety and Motor Vehicles Department reports that every year there are approximately 400,000 car accidents in Florida.
While many think of car accidents being one vehicle colliding with another vehicle, that is not always the case. Often, there are multiple cars and trucks involved in an accident. When multi-car accidents happen, liability can be difficult to determine. Also, there may be more than one driver who is at-fault. It is important to discuss your situation with an Orlando car accident attorney.
How Multi-Car Accidents Happen
In some instances, multiple vehicle crashes occur due to weather conditions. If drivers do not slow down or do not maintain a safe distance from other drivers, then chain reactions can occur. This can happen even in ideal weather if there are distracted or inexperienced drivers on the road.
If you are in an Orlando car accident, stay in your car as long as it is safe to do so. This is recommended because if everyone stays in place it may be easier for law enforcement officials to understand how the accident happened. Of course, safety is the first priority. So there are cases where vehicles need to be moved immediately to avoid more accidents and further traffic problems.
Things to Do After an Accident
There are a few things you should do when you are in an accident with another vehicle or several vehicles. These steps will help to keep you safe and increase the possibility of securing compensation later, if needed.
Stay in your car unless it is unsafe. You will want to remain in place until there are officials on location, from EMTs to police officers. These officials will likely let you know when it is best to get out of your car. Accidents should be reported to the police as soon as possible and you should remain at the scene of the accident until the police have arrived.
Take videos and photos of the vehicles involved and scene of the accident. Document the scene and any details that are an important part of explaining possible reasons the accident happened. When you are securing compensation with an insurance company, these photos and recordings can be very helpful.
Obtain the name and contact information of any witnesses to the accident. This includes any passengers in the other vehicles involved in the accident.  This could serve to be beneficial in the prosecution of your case.
Collect the names of the drivers of the other vehicles involved in the accident and their insurance information (i.e. name of their insurance company and policy number). Keep your conversations short and don't discuss who was possibly liable.
See medical attention for your injuries as soon as possible. Do not ignore any symptoms you are experiencing. Let the police know over the phone, if you are reporting the accident, or when they arrive at the scene of the accident, about your injuries or any symptoms you may be feeling.
Then, contact an experienced Orlando car accident lawyer to understand your legal rights and work right away towards obtaining compensation for your loss. While you are required to report the accident to your own insurance company, you should speak to a car accident attorney first.  Remember that insurance companies are not on your side.
Car accidents can be extremely stressful.  Dealing with insurance companies is no easy task.  There can be physical injuries and trauma, and your injuries can affect your work and day to day life. You may be able to secure compensation for injuries you have suffered and any time you have had to take off of work. Detailed memories of an accident can fade over time and there may be time limits to filing your claim. It is important to talk to a car accident lawyer as soon as possible.
For a complimentary consultation, contact the Orlando car accident lawyers at Israoui Law at 407-381-4529. Our experienced car accident attorneys know how to secure the compensation you deserve. At Israoui Law, personal attention matters.
Resource:
flhsmv.gov/resources/crash-citation-reports/
https://www.orlando-injury-lawyer.com/what-you-do-after-an-auto-accident-in-florida-can-affect-your-chances-of-recovery/