Motorcycle Riders In Florida Do Not Have Personal Injury Protection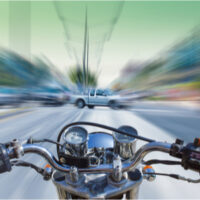 In Florida, it is a requirement that owners of vehicles with four or more wheels have Personal Injury Protection (PIP) coverage under their insurance policy. This type of coverage is a way for medical bills and/or lost wages to be paid.
If you are in a car accident and file a claim within 14 days of the accident, PIP will cover medical fees and/or lost wages, up to $10,000.00 minus any applicable deductible. This is part of the Florida No Fault System.
Obviously, motorcycles do not have four wheels so PIP coverage does not apply. This is even true in instances where a motorcycle owner carries PIP coverage on another vehicle, which happens to be a car or truck. It is important you discuss your Florida accident with an Orlando motorcycle accident lawyer as there can be substantial risks, both physical and financial, when crashes occur.
Florida Has a High Rate of Motorcycle Crashes
Because weather often allows motorcycle drivers to ride throughout the year, there is a high rate of motorcycle injuries and deaths in the state of Florida. This is also exacerbated because wearing a helmet is optional in the state of Florida.
Often the bigger, heavier vehicles are the reason motorcycle accidents happen. Reckless driving on the part of the car driver certainly contributes to the high rates of crashes between automobiles and motorcycles.
Reasons why cars and motorcycles have accidents in Florida:
Car driver not looking properly and failing to notice a motorcycle in traffic flow.
Talking on a cell phone or texting, which is distracting and dangerous.
Driving under the influence.
Failure to obey traffic signals and signs.
Miscalculating the speed of a motorcycle approaching.
If there is an accident, the motorcycle rider can move toward securing compensation by filing a claim against the car driver's insurance company, the at-fault car driver directly, and/or their own insurance company if they purchased uninsured or underinsured motorist coverage.  They can also sue the at-fault car driver and/or owner for their damages and can claim compensation for their damages motorcylce, injuries, medical bills, lost wages, and pain and suffering, as well as any other monetary damages related to the accident.
Injuries from Motorcycle Accidents
When there is an injury as a result of a Florida motorcycle crash, talk to an Orlando motorcycle accident lawyer who has a winning record with similar cases. A lawyer can help you to explore the causes of the accidents, including roads that aren't maintained and broken equipment. They can talk to witnesses and look into the details of the police report to help secure the answers needed for a successful outcome regarding compensation.
Injuries from motorcycle accidents can result in huge medical bills, lost wages, pain and suffering, and lifelong effects. You need an attorney who understands what you will need in terms of a settlement, both to pay current medical bills and cover the costs of future needs. An experienced motorcyle accident attorney can seek justice for your accident and obtain the right amount of monetary compensation for your loss.
To schedule a complimentary consultation, contact the Orlando motorcycle accident lawyers at Israoui Law at 407-381-4529. Our experienced accident attorneys are familiar with all of the details associated with motorcycle accidents and how to secure compensation. At Israoui Law, personal attention matters.
https://www.orlando-injury-lawyer.com/common-personal-injuries-in-orlando-florida/