Hurricanes, Floods and Property Insurance in Florida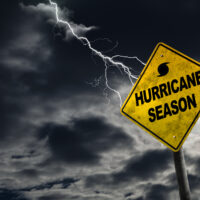 According to the National Hurricane Center, hurricane season in Florida begins June 1 and continues through November 30 each year. Although our state made it through Hurricane Dorian, Floridians should continuously to be vigilant and prepare for any other storms to come. This means reviewing your insurance policies, including your property insurance policy, to determine what the company will and will not cover in the event of hurricane damage.
Most Property Insurance Does Not Cover Flood or Hurricane Damage
Floods are often the result of tropical storms and hurricanes. According to the Federal Emergency Management Agency (FEMA), floods cause millions of dollars in damage every year. Hurricane damage occurs from seven sources, according to the National Hurricane Center. The seven sources of hurricane damage include:
High winds
Storm surge
Excessive rainfall
Location
Time of year
Preparedness
Global Warming
As you know, there are additional areas that your property insurance may not cover. This includes wind, earthquakes, and damages that are a result of neglect or other actions.
Hurricane Deductibles only Apply to Hurricanes Identified by National Weather Service
Another interesting thing to note is how insurance deductibles are applied when it comes to hurricanes. The National Weather Service has a say in whether hurricane deductibles apply to insurance claims. The Insurance Information Institute states that the application of property insurance deductibles is triggered by windstorm loss that results in a hurricane as declared by the National Weather Service. This means that if the hurricane was not properly identified by the National Weather Service, an insurance deductible may not apply for the damages.
Help with Obtaining Property Insurance
If you're a Floridian living without flood insurance, you can buy flood insurance through a private insurance company or an insurance company participating in the National Flood Insurance Program (NFIP).  If you need further assistance, you can try the Citizens Property Insurance Corporation (CPIC). The CPIC insures homeowners in high-risk areas. And the Florida Market Assistance Program (FMAP) will match you with agents and insurers when you can't find property insurance on your own.
Hire an Attorney for Issues with Property Insurance
In the event filing a claim or lawsuit is necessary, it's best to consult the expertise of an attorney. With an Orlando property insurance lawyer working in your best interest, you can have peace of mind knowing that you do not have to handle the issues yourself. And if you prevail in your property insurance case against your insurance company, you are able to recover attorney's fees.
Call Israoui Law, Orlando Property Insurance Lawyers
When you need to enforce your rights, contact the Orlando property insurance attorneys at Israoui Law at 407-381-4529.  Complimentary case evaluations are available and we are happy to schedule appointments at a location convenient for you. If for any reason there's no recovery, we receive no fees or costs. At Israoui Law, personal attention matters.
Resource:
fmap.org/index.cfm
iii.org/article/background-on-hurricane-and-windstorm-deductibles
https://www.orlando-injury-lawyer.com/prepare-for-hurricane-season-in-florida-with-the-right-property-insurance-coverage/