Prevent Personal Injuries with Back-to-School Tips for Orlando Motorists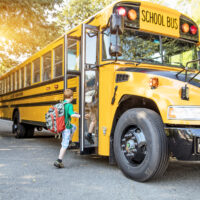 It's that time of the year again where children in Orlando are getting on school buses to begin the new school year. According to NHTSA's school bus safety website, school buses are the most regulated vehicles on the road – safer than cars in preventing accidents and injuries. Motorists have a responsibility of staying alert and being informed of the rules of the road and laws surrounding school safety and buses. Below, Israoui Law has a few back-to-school safety tips to avoid car accidents, pedestrian accidents and personal injuries to keep you and your children safe for the new school year.
Back-to-School Tips for Motorists
If you see a school bus with flashing lights and the stop sign out, be sure to stop the car immediately. Florida Highway Patrol indicates that drivers' failure or refusal to stop for school buses is a problem that happens far too often.
Also, Florida law states that drivers must stop for school buses. Drivers must come to a full stop and not pass the school bus until the sign is put away.  However, when the driver is on the opposite side of the road and separated by a median or barrier, the driver is not required to stop.
Do Not Text and Drive in School Zones
An essential law to note for motorists is the no texting and driving within school zones law. Beginning October 1, 2019, law enforcement will begin stopping drivers for using their cellphones in school zones and crosswalks. It is best for all motorists to get into the habit of putting the phone down in school zones, according to an article in Spectrum News 13.
Ensure Bike Riders Wear a Helmet
Some children will walk to school or even ride their bikes on their first day. If your child is under the age of 16, Florida law states that he or she must wear a helmet. The parent of a child who is not wearing a helmet while riding a bicycle is breaking the law. As a result, the parent will receive a ticket in the amount of $62.50.
Possible Injuries Drivers and Children May Face
Without following these tips and the laws in place, children and drivers can receive serious, life-changing injuries. These injuries include, but are not limited to:
Broken limbs
Back and neck injuries
Brain injuries
Failure to heed these tips can also result in wrongful death. Each of these safety tips are a friendly reminder to ensure Orlando's motorists and children have a pleasurable first day school and a great start to the school year.
Israoui Law Helps Accident Victims with Orlando Personal Injury Claims
If you or someone you love is facing personal injuries received in a school zone or crosswalk, contact the Orlando personal injury attorneys at Israoui Law. We are dedicated to giving you the personal attention and care you deserve. Call our firm now at 407-381-4529 for a complimentary initial consultation. At Israoui Law, personal attention matters.
Resource:
https://www.nhtsa.gov/road-safety/school-bus-safety
https://www.mynews13.com/fl/orlando/news/2019/08/11/fhp–school-is-starting–so-obey-school-year-road-rules
https://www.orlando-injury-lawyer.com/no-texting-and-driving-law-in-florida-seeks-to-prevent-car-accidents-due-to-distracted-driving/