Orlando Potholes, Accidents, And Injury Claims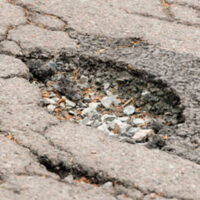 Millions of tourists visit Orlando, Florida, every year. They do so to visit theme parks, explore attractions, and enjoy the beautiful weather. And, of course, hundreds of thousands of people call the city of Orlando home as well. With so many visitors and residents, Orlando roads get a lot of use, and potholes and other road hazards are present from time to time.
Like any major city, Orlando has its fair share of potholes, accidents, and injury claims. If you want to connect with a legal professional to explore the causes and consequences of a car accident you were involved in, make an appointment with an Orlando personal injury lawyer.
Weather, Heavy Traffic, and Normal Wear and Tear
A common road issue in Orlando and cities throughout the United States, potholes can occur for a variety of reasons, including heavy traffic and strains from daily use of a roadway. And because Florida can have extreme weather, pavement can be weakened by heavy rainstorms, too, making them more susceptible to cracks, breaks, and potholes. When potholes are not repaired as soon as they are recognized, accidents and vehicular damage are possible.
In some cases, Orlando potholes have caused accidents that have led to injury claims. If your injury is a direct result of the damaged pavement, you may be able to secure compensation through claims against the city or county responsible for maintaining the road. This is because the local government has a duty to keep the road in safe condition.
Traffic Accidents In Florida and Personal Injury Claims
Car accidents happen for a lot of different reasons, including distracted driving, speeding, drunk driving, and poor road conditions. Sometimes the hazardous road conditions include potholes. If you have been involved in a car accident in Orlando, it's essential to seek medical attention immediately. Even if you feel fine, some injuries may not be immediately apparent, and having a medical professional assess your condition will support your path to healing and your personal injury claim.
When a person is hurt due to someone else's negligence, they have the right to seek compensation for your damages, including medical expenses, lost wages, and pain and suffering. Whether you believe your injury is a direct result of a city not taking care of a pothole or due to another driver recklessly losing control of their car because they were unable to manage a pothole risk, there could be a path to financial compensation.
It is an unfortunate reality that Orlando's potholes, accidents, and injury claims are a reality of living in a popular, active city. Protect your rights and your financial future, seek legal representation from an Orlando personal injury lawyer.
Are you suffering from an injury that took place, in part, due a pothole? An experienced lawyer can help you recover compensation for your injuries and ensure that your rights are protected throughout the legal process. Reach out to the car accident attorneys at Israoui Law for the personal attention you deserve. Always speak to an experienced auto accident lawyer before speaking to any insurance company.  Make your initial, fee-free appointment today, simply call 407-381-4529.