Orlando Water Tubing Injuries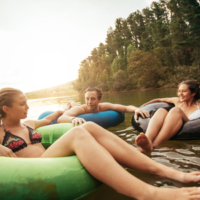 Florida residents and tourists alike enjoy boating and maritime sports. Which makes sense as Florida has both the beautiful waters of the Gulf of Mexico and the Atlantic Ocean to enjoy. While many of these activities are fun, there are times when people get injured. For example, some people have been injured when tubing.
After a tubing accident or other water sport injury, contact an Orlando boat accident lawyer. If another individual or entity was liable, it may be possible to secure a financial compensation to cover doctor bills and other expenses. Insurance claims differ depending on if the vessel is operated by a commercial venture or a private individual. An experienced lawyer can help you navigate the complexities of insurance negotiations and claims, and let you know if you are entitled to compensation for your loss. Always contact an experienced personal injury attorney before speaking to any insurance company.
Preparing for a Tubing Excursions Can Help
It is never possible to completely avoid an accident. After all, that is why they are called accidents. But there are steps you can take to help prevent injuries if you are tubing when boating in Florida.
Wear safety gear, such as life jackets and eye protection.
Choose tight clothes, loose items can catch.
Use hand signals so tubers can communicate with the boat.
Have a set a course for the tubing excursion, one that avoids hazards.
Do a safety check on the ropes and tubes before heading out.
Never tube when drinking or using drugs
Look at weather forecast and do not go out if storms are predicted
Establishing emergency plans is also helpful, such as knowing who you will call in the event help is needed and where first aid kits are located.
Injuries Need to be Assessed by a Medical Professional
If an individual or multiple people are hurt when tubing and boating, seeking medical care right away is important. Severe injuries are possible, including, concussions, brain injuries, and broken bones. Immediate medical attention means healing can begin and the event will be documented properly should a personal injury claim move forward in the future.
Discuss the injury documentation you have with an Orlando boat accident lawyer. Then, your legal representative can assess if more information is needed to strengthen the claim. It is likely the location of the event, who was operating the boat, and how the accident happened will all have to be written down and verified.
In addition to these facts, it can be helpful for the injured party to take pictures or videos of where the incident occurred and their injuries. They can also keep track of any time missed from work because of the injury, and any other expenses or costs incurred that are related to the accident.
Are you recovering from injuries sustained in a tubing accident? If you have bills, wage loss, and/or other expenses following an accident, contact the Orlando personal injury attorneys at Israoui Law. You deserve just compensation. Call 407-381-4529 today. Turn to Israoui Law for the personal attention you deserve.
https://www.orlando-injury-lawyer.com/ptsd-is-common-after-serious-car-accidents/