What to Do if You Are Injured at a Theme Park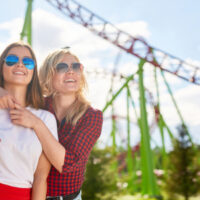 Orlando is home to amusement parks and theme parks full of activities and rides. Families make memories together riding the roller coasters and water slides. Unfortunately, it isn't always a day full of fun, visiting one of these attractions sometimes results in injuries.
The types of injuries that happen at a theme park vary widely, from minor to serious. Many of the accidents are a result of negligence. In those instances, victims have the right to compensation. It is important to discuss your situation with an Orlando personal injury lawyer to determine the best path to justice for you and your family.
Steps to Take After an Amusement Park Injury
When you suffer an injury at an amusement park, there are things you can do to help strengthen your case. A skilled lawyer can help to evaluate your case and will let you know what type of compensation could be available for your theme park injuries.
What to do after an injury:
Notify a theme park employee
Don't accept any offers for compensation
Seek medical attention immediately
Take pictures and videos of the location of your incident
Request a copy of any incident report made
Get witness information
Keep receipts to prove you were there
Document and keep any clothing and shoes you were wearing at the time of the incident
Claims Against Theme Parks Can Be Complex
Because the people and organizations that own and manage theme parks are aware of the possibility of injuries, there are typically legal teams and insurance companies working for the amusement parks throughout the year. Their job is to limit the amount of compensation individuals and families who have suffered injuries receive.
Settlement offers are common, but the offers from the theme park's insurance are often way lower than an individual could obtain with the help of a lawyer. With an attorney working for you, you can obtain adequate compensation for your injury and any injury-related losses that you have accumulated.
Types of Amusement Park Injuries
Many of the injuries that happen in amusement parks happen to visitors on rides. These injuries can happen for a variety of reasons, including operators of rides who are not trained properly, staff that is distracted, not providing visitors with warnings about risks connected to medical conditions, safety devices that are defective, mechanical failures, and failing to comply to all of Florida's safety standards for amusement rides.
Beyond ride injuries, there are other accidents that can happen in theme parks, too. Including the following:
Dangerous walkways causing slips or trips and falls
Accidents on trams and trolley
Concession stand food poisoning
Talk to an Orlando Personal Injury Lawyer Today
If you or someone you know was injured at a theme park, it is essential that you discuss your situation with an experienced Orlando personal injury attorney that you can trust. Legal help is important for victims seeking fair compensation.
For a complimentary consultation, contact the Orlando personal injury lawyers at Israoui Law at 407-381-4529. We know how to negotiate with insurance companies,  theme park claims representatives, and the legal teams of large companies involved in theme park negligence cases. At Israoui Law, personal attention matters.
Resource:
flsenate.gov/laws/statutes/2011/616.242
https://www.orlando-injury-lawyer.com/bar-and-nightclub-injuries-as-a-result-of-negligent-security-in-orlando/