When Should I Explore Mediation For Car Accident Injury Compensation?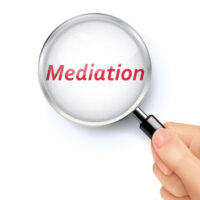 While insurance settlement negotiations typically lead to a person achieving the financial relief that is needed after an Orlando car wreck, there are situations where additional action needs to be taken. If you are unable to reach a settlement agreement through the negotiation process,  you may be wondering whether you should pursue mediation or litigation.
There are many cases that benefit from the mediation process. To explore the benefits of mediation over litigation and discuss whether it is the appropriate resolution path for you, connect with an Orlando personal injury lawyer.
Advantages of Mediation Over Litigation
Mediation is an alternative dispute resolution process involving a neutral third party mediator. The mediator works with both parties to reach a settlement agreement. Compared to litigation, mediation has several advantages.
Cost-effective. Mediation is generally less expensive than litigation. This is true, in part, because it does not require a trial and both parties share the cost of the mediator's fees.
Discussions do not happen in a public courtroom, so the parties involved can negotiate without fear of their discussions being used against them in court.
Resolution is faster. Mediation can be completed and the parties involved can set their own schedule, there is no need to wait for court dates.
Control over the outcome. In mediation, the parties have more control over the outcome of the case, so they can work together to reach an agreement that meets their needs.
If you have been injured in a car accident, you may be weighing the possibility of pursuing compensation through an insurance claim or a lawsuit. But a settlement offer from an insurance company and trial are not the only two options. If you are unable to reach a fair settlement through negotiation, mediation may be an option to consider.
When Mediation Makes Sense
There are many situations where it is appropriate to pursue mediation. This could be true if you want to avoid the stress and expense of litigation, for example.  All cases in Court are required to go through mediation.  Litigation can be a long, time-consuming process and if you are able to access a financial amount you need through mediation, it will likely be a more relaxed and informal process.
Plus, mediation is private. You will avoid a public court dispute, and maintaining relationships could be possible. For instance, if anyone involved in your dispute is a family member, friend, or if your workplace is involved, mediation could be optimal because you can avoid an adversarial litigation process that could destroy personal connections.
Mediation has several advantages over litigation, including cost-effectiveness, confidentiality, faster resolution, and control over the outcome. So if you are unable to reach a fair settlement through negotiation, talk through the possibility of mediation as an alternative with an Orlando personal injury lawyer.
Were you hurt in an accident and are now curious about mediation as a resolution option? Often it is possible to reach a settlement amount through negotiating with insurance companies, but when that doesn't happen, talk to the injury attorneys at Israoui Law about mediation and litigation options. For the personal attention you deserve, call 407-381-4529.