Why You Need An Accident Report For Your Claim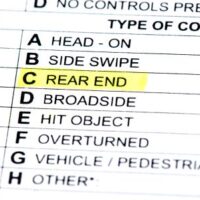 If you were injured in an Orlando car accident and needed to be cared for in a medical setting, you could likely use financial relief. A compensation amount that will cover all of your doctor bills, physical therapy fees, prescriptions, lost wages, etc. To strengthen your accident claim, be sure you have collected all of the necessary documentation, including the accident report.  It is required for an accident to be reported.  Don't simply exchange information with the other party.  The accident report will serve as proof that the accident occurred in the first place.
Although there is an exception under Florida to the use of the accident report in a civil matter, an accident report provides important information about the event, relevant details that are necessary for insurance adjusters and legal professionals to review your claim and assess the claim's value. While you may be able to obtain a report on your own, there are an array of documents that may need to be collected. When you hire an Orlando personal injury lawyer, they can gather all of the necessary evidence and inform you of the worth of your claim, given the available documentation.
Importance of Gathering Reports from Law Enforcement
There are several reasons why it is necessary for you to obtain an accident report to fortify your recovery claim. First, the report provides important details that help to determine and establish liability. For example, the Orlando accident report might include witness statements, diagrams of the accident scene, information about the weather or driving conditions, insurance information for the parties involved, traffic citations issued, and other information that may be helpful to your case.
Second, the report may have documented the extent of your injuries. This is true because the report will include information about sustained harm, either by you or the other parties involved in the accident. Damage to the vehicles will also be outlined. All of this data can be used to support your claim for compensation for medical expenses, lost wages, and other losses.
Accident reports are also a valuable tool in negotiating a settlement with the insurance company. Your attorney can use the report to prove there are facts that prove your need for a full and fair settlement amount. Information in the report may be useful in pushing back on an insurance adjuster's low-ball offer. There are even situations in which an Orlando attorney can use the information in an accident report to turn a denied claim into a successful one.
Accessing an Orlando Accident Report
In Orlando, accident reports can be obtained from the Florida Highway Patrol, the Orange County Sheriff's Office, or the Orlando Police Department. To obtain a report, you will need to supply information about the event in question. If you are having difficulty obtaining an accident report, an Orlando personal injury lawyer can help. Attorneys are familiar with the process and can obtain reports quickly and efficiently.
Attorneys know how to acquire valuable information about traffic accidents, and they can use this data to establish liability and negotiate with insurance companies. Discuss what documentation would support your recovery with a skilled lawyer to learn more.
Could an accident report and other documentation help you pay for accident injury expenses? Discuss what is possible for you following a Florida car accident with the injury attorneys at Israoui Law.  Always speak to an experienced accident lawyer before speaking to any insurance company.  Schedule your fee-free consultation today, call 407-381-4529 for the personal attention you deserve.