Do I Really Need Uninsured Motorist Accident Insurance in Orlando?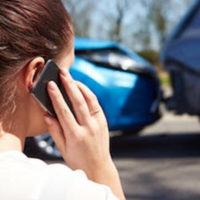 Although the State of Florida does not require drivers to have uninsured motorist insurance coverage, it is an extra layer of insurance in the event you receive injuries in a car accident when the at-fault driver does not have insurance. Studies reveal that Florida has the greatest number of uninsured drivers, nationwide. With the number of people driving without insurance, other drivers and passengers are at a greater risk for uninsured driver accidents, injuries, and possibly death. To protect yourself and your family, the best thing you can do is ensure you have uninsured motorist insurance.
What is Uninsured Motorist Insurance?
Uninsured motorist insurance is an insurance option attached to your car insurance policy that helps to pay for medical bills if you're involved in a car accident by a driver that has no insurance. The uninsured motorist insurance will cover you, your relatives living with you, and anyone occupying your vehicle.
Additionally, uninsured motorist insurance will cover you when the driver does not carry enough insurance to cover your injuries and damages.
How to Handle Uninsured Driver Accident Claim
In the event an uninsured driver collides with you, there are a few simple steps that should be follwed to make sure your auto insurance claim is properly handled with your chosen vehicle insurer:
Call 911 and Seek Immediate Medical Attention
Contact the police and report the accident. Obtain a crash report number or driver's exchange form from the reporting officer.   If you are experiencing any pain, you should seek medical attention right away.
Take Photographs and Videos
It is important to take photographs and videos of the damage to all the cars involved in the accident and the scene of the accident.  Often times, this evidence is crucial in an accident claim.
Accident Must Be Reported to Your Insurance Company

It is necessary to let your insurance company know about the accident within a reasonable time after the accident.  Your insurance company will ask you important information such as your insurance policy number, the location, date and time of the accident, how the accident occurred, the damage to the cars, and any injuries.  They may also ask you for the number of the police report and investigating police department, as well as other information about the accident.  However, it is important to remember that if you are hit by an uninsured motorist driver, your insurance company will become the primary insurer for your loss.  Your insurance company will step into the shoes of the at-fault party, this means that they will be looking out only for their best interests.  Because of this, it is important to get help from an experience uninsured motorst accident attorney who can report your accident to the insurance company for you and assist you in handling your claim.
Get Help From an Orlando Uninsured Driver Accident Attorney
Often times, your insurance company will try to contact you with an amount to settle your claim, do not take the first offer. Keep in mind that insurance companies are in the business of saving as much money as possible. Although you pay a premium each month, they do not look out for your best interest.
It's smart to seek the assistance of an Orlando Uninsured Motorist Accident Attorney who is aware of the ins and outs of settling auto insurance claims with the insurance company. The attorney will work to negotiate a settlement that you deserve, not what the insurance company wants to pay out.
Did You Get Hit by an Uninsured Driver? Call Israoui Law
If you need help, call the Orlando uninsured driver accident attorneys at Israoui Law. We will dedicate the necessary resources to ensure you are adequately represented and your rights are protected. Call 407-381-4529 for a free case evaluation. At Israoui Law, personal attention matters.