Florida Hurricane Season and Orlando Motorcycles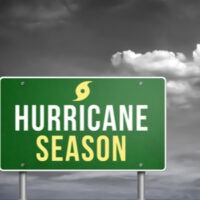 The Atlantic Ocean is a wonderful asset to living in Florida. But, during the Atlantic hurricane season, there can be dangerous storms throughout the state. Most years, the hurricane season begins in June and continues through November. While there are dangers throughout summer and early autumn, historically the months of August and September are the stormiest months. For motorcyclists, extra precautions are needed during Florida's hurricane season.
Planning ahead can help a rider avoid injury, but if an accident does occur, seek legal help as you and your family heal. An experienced Orlando motorcycle accident lawyer knows how to navigate the medical expenses and lost wages incurred because of a crash.
Rain Gear and Staying Safe
It is not comfortable to ride a motorcycle in the pouring rain and there can be dangers as well. Investing in high quality rain gear can be helpful. Some motorcyclists wear the gear when the forecast calls for rain, others carry rain gear with them and put it on as soon as they notice wet weather. When a rider is dry, in a full suit with pants, sleeves, and gloves, it helps them to focus on the road without thinking about the discomfort of wet clothing.
Of course, there are dangers on slippery roads no matter what a motorcyclist is wearing. It is important to ride slow and be aware of any changes to road conditions. When roads are wet, hydroplaning is possible. On a motorcycle, hydroplaning events can be managed when a rider eases off the throttle. Maintaining control of a bike requires speed maintenance in all conditions.
Because there are a lot of things to think about when in control of a motorcycle, many riders prefer to use familiar roads during storm season. Knowing the twists and turns of a road in advance allows a person to plan accordingly.
Tips to Storing a Motorcycle During Hurricane Season
When hurricanes and storms bring more worry than fun, riders may choose to store their motorcycle until better weather returns. After all, motorcycles are a big investment. Keeping yourself safe while protecting pricey machinery may be the best option.
Storage tips to consider:
When an area experiences a lot of flooding, elevate the bike from the floor of a garage.
Dust and scratches can be avoided when a motorcycle is covered or wrapped.
Along with covering a bike, add a layer of water protection to exhaust regions.
There are stunning views along the coastline of the Atlantic Ocean, but part of living near the ocean is coping with Florida's hurricane season. Being prepared and staying safe can save you and your family a lot of pain and suffering. If a collision does occur, talk to an Orlando motorcycle accident lawyer. Florida's No-Fault system does not apply in motorcylce accidents.  Therefore, it is important to hire an experienced Orlando motorcycle attorney who will work to obtain just compensation for your loss by going after the person who caused the accident and file any insurance claims. Always talk to an attorney first before speaking to any insurance company.
Have you been injured in a motorcycle crash? Were you hit when riding in Florida? Contact the Orlando personal injury lawyers at Israoui Law at 407-381-4529. Our experienced accident attorneys are familiar with all of the details associated with motorcycle accidents and know how to secure compensation. At Israoui Law, personal attention matters.
https://www.orlando-injury-lawyer.com/benefits-of-witness-accounts-after-an-orlando-accident/