I Was In an Orlando Accident but My Seatbelt Wasn't Buckled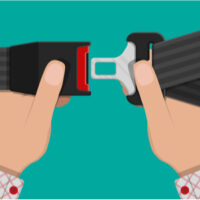 Florida is a state that requires seat belts. If you are in an Orlando car accident without a seat belt on you are increasing your risk of injuries and can receive a ticket. In addition, it may add complexities to securing compensation. Under Florida statutes, a negligent driver is liable, but the insurance company could claim the injuries were due to the seat belt not being worn.
An Orlando car accident lawyer can provide the legal representation you need to secure compensation for you and your family. Florida accidents can create lifelong physical issues and acute financial damages.
Always Wear Your Seatbelt When In a Vehicle
In the majority of states, including Florida, seat belt laws are in place to help protect individuals on the roads. According to Florida law (section 316.614, Florida Statutes) safety belts are a requirement for all drivers, all front seat passengers, and all passengers under the age of 18. There are many reasons why seat belts are important in the event of an accident, including the following:
Seat belts reduce the possibility of individuals being ejected from the vehicle.
Being thrown into a dashboard or windshield is less likely.
The individual in control of the vehicle is kept in a driving position.
Recovering Compensation
If the other party was at fault in a collision you were involved in, it may have been because the driver was reckless, driving too fast, under the influence, not stopping at red lights, or ignoring other traffic laws. There are many reasons traffic accidents happen. While the accident itself did not happen because of a victim's failure to wear a seat belt, an insurance company or attorney could still bring it up as a reason to reduce a settlement offer.
A reduction in compensation can be significant. For a victim who is healing from a major injury or who has lost income, a full recovery amount is often needed. An Orlando car accident lawyer can help to recover monetary damages.
With an experienced attorney by your side, it may be possible to prove the injuries and damages had no connection to the fact a seat belt was not being worn. Testimony from medical experts, along with photos and videos of the accident site and vehicles could serve as valuable evidence in a case. Lawyers know what documentation and evidence is needed to secure results for their clients.
Whenever you get into a vehicle, buckle up. It is Florida law and can help individuals to avoid injury. If the accident has already happened and you were not wearing your seatbelt, you still have options.
Were you in a Florida car accident? Was another driver at fault for your injuries even though you were not wearing your seatbelt at the time? You need a legal professional to negotiate with the other party's insurance company and lawyer. Contact the Orlando personal injury attorneys at Israoui Law at 407-381-4529. With complimentary consultations, our lawyers can help you secure the maximum compensation amount possible. Turn to Israoui Law for the personal attention you deserve.
https://www.orlando-injury-lawyer.com/the-importance-of-medical-records-and-a-car-accident-claim/