The Importance of Medical Records and a Car Accident Claim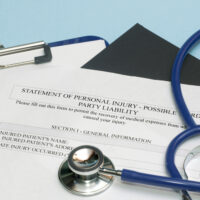 If you have been injured in a car accident, you may be filing a personal injury claim. When you do, your medical records are an important component in proving you have the right to compensation. So while many keep their medical records confidential, it is important to keep in mind that in the aftermath of an accident part of your records could be scrutinized.
In the event of a personal injury lawsuit, the other party's attorney will also be able to look over the medical records connected to the case, even when they are representing someone who was the at-fault driver. This is the reason you need to have clear and complete medical records, taking steps along the way to build a strong argument. Talk to an Orlando car accident lawyer to understand how your medical records will be handled.
Strengthen Your Car Accident Case
Because medical records can build a strong case, you don't want to do anything that could sabotage your success. Make sure to let your doctor know about the car accident and all of the symptoms you are feeling. Focus on your health, and follow all of the directions of healthcare providers along the way.  The goal is recovery and complete records.
Be sure to follow these guidelines when seeing a doctor after being injured in a vehicle accident:
As soon as possible, seek medical treatment.
When you are given directions from a doctor, follow them.
Tell your doctor about how your injury is connected to the accident.
Do not hide any pains or worries.
The reason you need to follow these guidelines is because failing to see a doctor or not following their advice or treatment plans could be used against you. Insurance companies and their defense attorneys could claim the injuries you sustained were not as severe as you are claiming.  Essentially, that if you did not go to the doctor right away and did not keep follow-up appointments or follow the prescribed treatment plan, you could be exaggerating your pains or injuries.
Similarly, you want it to be clear for everyone involved that the injuries sustained were due to the car accident. Do not tell your doctor that it happened any other way. If you tell a doctor a fib because you are embarrassed about the accident, that information could be on your medical record. Keep all appointments and be clear with medical professionals about any limitations or pains that continue over time.
If you receive a medical records release request, do not turn over your records before talking to a lawyer. An Orlando car accident lawyer can ensure only the information pertinent to the claim is released.
Discuss Your Medical Records with an Orlando Attorney Today
Do you have extensive medical bills for injuries you sustained in a car accident? You deserve to be compensated if another driver was negligent. To schedule a complimentary consultation, contact the Orlando car accident lawyers at Israoui Law at 407-381-4529. Our experienced lawyers are familiar with all of the details associated with car accidents and how to secure compensation. At Israoui Law, personal attention matters.
https://www.orlando-injury-lawyer.com/top-3-questions-every-orlando-driver-should-ask-after-a-car-accident/