Car Accidents Can Lead to Back Injuries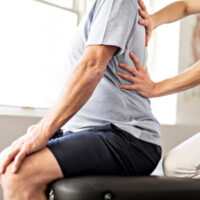 Back injuries are a common complaint after car accidents or falls. When they happen, a back injury claim is a path to compensation from the business or person who is at fault. The severity of the injuries will likely be a large factor in determining the value of a claim. An Orlando car accident lawyer can help if your back was hurt in an accident.
Different Kinds of Back Injuries from Car Accidents
There are many ways that the back can be injured during a car crash, and some of them require extensive medical treatment to heal. There are also times when pain associated with the injury is long lasting.
Here are a handful of examples of back injuries from collisions:
Rear-end accidents can cause whiplash. This is because the head and neck are snapped forward and back, which can damage ligaments and muscles., as well as numbness, tingling or weakness in the extremities. While some victims feel whiplash immediately, others do not notice symptoms, such as dizziness or stiffness, for days or weeks following the event. Physical therapy may be needed to heal properly.
Damage to discs. There are discs in the spine that can be harmed through the force of a crash. Sometimes discs are slipped, herniated, or ruptured. Surgery may be needed in severe cases, often physical therapy and pain medication is an option.
Compression fractures. There are different types of spinal fractures, one of them is referred to as a compression fracture and symptoms can appear in other areas of the body, including leg numbness and bladder issues.
Spinal cord injuries. Bruising can be minor with recovery lasting a few weeks, but in serious cases of bruising or cuts, there can be paralysis or permanent function loss.
Getting Medical Bills Covered Through Compensation
Back injuries can require expensive treatments and have recovery timeframes that last months or years. It is likely there will be medical bills to pay.
Always seek a doctor's advice in the aftermath of an accident. A medical professional can assess your physical health and determine what treatment is needed for your injuries.
Contact an Orlando car accident lawyer to secure the compensation needed to cover all of the doctor bills, physical therapy expenses, and reduced income from lost work.   You should contact an experience accident attorney before speaking to any insurance company.
A back injury can impact a person's life in many ways. Unfortunately, for some, pain and issues can last for years.  The compensation amount varies, depending on many factors, including the severity of the injuries, expenses incurred, and available evidence.  Insurance companies may provide settlement offers and  an experience accident lawyer can make sure to obtain just compensation for your loss.
Are you recovering from a back injury? Did the injury happen when you were involved in a Florida car accident? Contact the Orlando personal injury attorneys at Israoui Law at 407-381-4529. With complimentary consultations, our lawyers can help you secure the maximum compensation amount possible. Turn to Israoui Law for the personal attention you deserve.
https://www.orlando-injury-lawyer.com/car-accidents-can-result-in-traumatic-brain-injuries/