Talk to a Lawyer About Your Pre-existing Conditions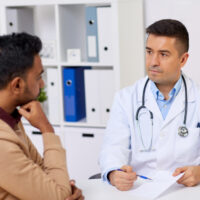 After an Orlando car accident, when you are talking to a lawyer, be upfront about your pre-existing conditions. In order for an attorney to advocate for you, they need to have a clear understanding of your injuries. If you attempt to hide a pre-existing condition, it can create problems as your claim moves forward.
Strong personal injury claims are a possibility when there are pre-existing conditions, so be up front with your Orlando car accident lawyer throughout the claims process. Recovering compensation is what skilled attorneys do each and every day.
Insurance Companies and Pre-Existing Conditions
Often the insurance company of the at-fault driver will pay for accident expenses after an Orlando car crash. This compensation includes property damages, personal injury expenses, and wage loss. Each claim is unique and a knowledgeable attorney can review a claim and recognize what amount of compensation could be secured.
A person can seek damages for a pre-exsiting injury if the accident aggravated or worsened the condition. Damages can be awarded in connection with injury acceleration. When health issues are present, it is important to talk them over when you are seeking medical attention after a car crash.
A sampling of the pre-existing conditions that could be exacerbated due to a car accident:
Anxiety and depression
Asthma and breathing issues
Arthritis
Back problems such as degenerative disc disease
Broken bones
Headaches and dizziness
Heart issues
High blood pressure
Discuss any concerns with your doctor. Being truthful with your doctor and attorney is essential.  Insurance companies and their team of claims representatives, investigators and attorneys are looking for any reason not to pay your claim.  Hiding any pre-existing injuries from your doctor or attorney only helps the insurance company.  Under Florida law, the injured person has the legal obligation to prove all aspects of their case.  This includes the injuries and is done through the medical records.  If your doctor and attorney do not know about your pre-existing injuries or the extent of your pre-existing injuries, they will not be able accurately depict your injuries, provide you with the medical care you need, and present your claim to the insurance company or a jury.
If your doctor sees a connection between the car accident and your health issue, share that with your Orlando car accident lawyer. For example, if a broken bone has not completely healed when an accident happens, the impact of the wreck could re-fracture the bone. Or a back pain could become unmanageable due to the impact of a crash. An accident can result in a person's path to healing being changed or extended.
An insurance company cannot deny a claim solely because of a pre-existing condition. This is because the pre-existing condition could be stable prior to the crash.
Be Honest About Pre-Existing Injuries
The at-fault driver's insurance company might request medical records when investigating a claim. This is part of the reason your doctor and attorney needs to be aware of all pre-existing injuries and conditions. The other party's insurance company could say they are not responsible for the injury because it was already present before the accident occurred. If an injury was accelerated, your attorney needs to know so they can immediately refute that claim denial.
After a Florida car accident injury, a lawyer can help a person understand their options. Being honest and open with your attorney is the best path to maximum compensation.
Do you have a pre-existing condition? Were you injured in an accident? Talk to a lawyer before discussing your health history with anyone at an insurance company. Contact the Orlando personal injury attorneys at Israoui Law at 407-381-4529. With complimentary consultations, our lawyers can help you secure the maximum compensation amount possible. Turn to Israoui Law for the personal attention you deserve.
https://www.orlando-injury-lawyer.com/how-to-increase-your-compensation/