Orlando Increases Safety Precautions to Avoid Pedestrian Accidents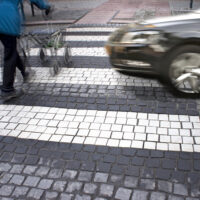 Even with the rise of e-scooters and other popular forms of transportation in society today, walking and running are still a common approach to getting from point A to point B. Pedestrians have responsibilities when it comes to sharing the street with cars, motorcycles, and trucks. However, pedestrians in Florida are the ones facing severe injuries due to pedestrian accidents caused by another party's negligence.
Orlando is Dangerous for Pedestrians
Florida is the most dangerous state for pedestrians. An article in WPTV 5 shows that Dangerous by Design, a report by Smart Growth America, shows that Orlando-Kissimmee area is the most dangerous area for walking. Orlando ranks number 1 on the list for the most dangerous areas for walking in the United States.
Safety Measures are Being Put in Place for Orlando
The Florida Department of Transportation (FDOT) is taking measures to combat these alarming statistics. According to Fox 35 Orlando local news, FDOT is installing special pedestrian signals and enhanced lighting to increase the visibility of pedestrians at crosswalks.
Additionally, MetroPlan Orlando recognizes that transportation in the form of walking is a primary mode of transportation for many. For this reason, the MetroPlan Orlando's pedestrian program and Safety Action Plan addresses the needs for improvement when it comes to the city's pedestrians. MetroPlan Orlando also founded a pedestrian safety coalition that seeks to reduce pedestrian injuries and deaths.
Pedestrian Rights to File Claims or Lawsuits Against Negligent Parties
In the event a person is injured while walking, the person has a right to file a personal injury lawsuit. If the negligence of a driver resulted in a person's injuries, the person will file a claim or suit against the driver.
When a person is injured while walking throughout the city due to governmental negligence, the person will file a claim or suit against the proper government entity.
Because pedestrians walk without the protection of seatbelts, airbags, or helmets, their injuries can be life altering. Some of the injuries pedestrians receive are:
Traumatic brain injuries (TBI)
Neck injuries
Back injuries
Skin injuries
Loss of limbs
Sometimes, injuries from pedestrian accidents can result in permanent disability and wrongful death.
It is important for the pedestrian to speak with a qualified pedestrian accident lawyer when a claim or lawsuit is necessary. The lawyer can help recover the maximum amount of compensation and handle the insurance company. If the claim or lawsuit against the negligent party is successful, the pedestrian is allowed to recover compensation such as the following:
Medical bills
Lost income from work
Loss of enjoyment of life
Contact Us Today for Help
If you find yourself with injuries due to a pedestrian accident, do not face the issue alone. You need a reputable Orlando Pedestrian Accident lawyer who will help you carry the burden of the accident and ensure you receive fair compensation for your injuries. For a complimentary consultation, contact the Orlando pedestrian accident lawyers at Israoui Law at 407-381-4529.  We understand your concerns and will dedicate resources to make sure you are well represented and treated with care and compassion. At Israoui Law, personal attention matters.
Resource:
wptv.com/news/region-c-palm-beach-county/west-palm-beach/study-says-south-florida-one-of-the-most-dangerous-cities-for-pedestrian-deaths-in-the-u-s
smartgrowthamerica.org/dangerous-by-design/
fox35orlando.com/news/local-news/fdot-working-to-improve-pedestrian-safety-on-obt
https://www.orlando-injury-lawyer.com/no-texting-and-driving-law-in-florida-seeks-to-prevent-car-accidents-due-to-distracted-driving/