Things to Do After an Orlando Fender Bender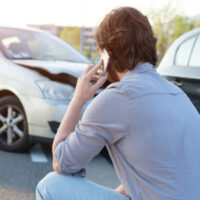 Accidents happen. Many people experience multiple car accidents over the course of their lifetimes. Naturally, the hope is that none of those accidents will be major, but even minor accidents can be stressful. If you have been in a fender bender, talk to an Orlando car accident lawyer as soon as possible after an accident. They can help you determine if compensation is a possibility.
What to Do After a Minor Accident
After a collision of any size, it is important to stop your vehicle. When it is possible to do so safely, pull your car off the road to prevent more accidents. Staying in the traffic flow can create more issues, so be safe. It's also often a good idea to turn on your hazard lights so oncoming cars will be alerted that there is an issue.
Once you are stopped, assess yourself and your passengers for any injuries.  Contact the police to report the accident and wait until they arrive.  Do no leave the scene of the accident unless your injuries require immediate attention and are transported by ambulance to the hospital.   If you injuries are not an emergency, when you are able to leave the accident site, make an appointment with your health care provider as soon as possible. Sometimes, injuries are sustained even when nothing is noticed immediately. Keep in mind that under Florida's No-Fault (Personal Injury Protection (PIP)) system, you must seek medical attention for your injuries within 14 days from the date of the accident or you loose your rights to claim up to $10,000.00 in medical and wage loss benefits from your insurance company.
Post-Accident Information Exchange
It is easy to forget the details, so it is advisable to jot down details about the accident while the incident is top of mind.
Details that can be useful:
The time and date of the accident
Where the accident happened, including street names and the location of the cars on the street
Weather issues, such as heavy rain, wet roads, or wind gusts
Facts or points that may have contributed to the incident.
Names and contact information for any witnesses
You should take photos of all the damage for all of the vehicles involved in the accident.  Images or videos of vehicle damage and the location can be useful in proving your case later.
It is also important to collect information from the other drivers and passengers involved in the accident. You will need names, insurance information, phone numbers, registration information, license plate numbers, and other identifying details about the persons and cars involved. For instance, you will want to document the make, model, and year of each vehicle.
How Much Damage Was There?
When you are looking over your vehicle, know that there can be damage that is often not noticeable. You may notice bad smells, worrisome sounds or fluid leaks from your car. These are signals that something is wrong. But, there can also be damage that is not noticed at the site.
Be sure you do not discuss who could be at fault when talking to other drivers and people at the accident site. Instead, simply exchange information and stick to the facts when talking to the police officer.  Plus, you will want to protect yourself and talk to an Orlando car accident lawyer before agreeing to any settlement amounts or speaking to any insurance company.
Even minor accidents can result in injuries and extensive repairs. To schedule a free consultation, contact the Orlando personal injury attorneys at Israoui Law at 407-381-4529. Our experienced lawyers are familiar with all of the details and laws associated with car accidents and how to secure compensation. At Israoui Law, personal attention matters.
https://www.orlando-injury-lawyer.com/what-to-do-if-you-are-injured-at-a-theme-park/