Florida Motorcycle Laws And Safe Riding For Passengers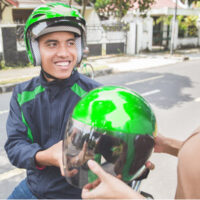 Orlando motorcyclists know there are many beautiful rides in central Florida.  Popular destination s include Lake Apopka and Daytona Beach. When a cyclist decides to head out to take in the scenery or visit a campground, they often want to take a passenger with them. After all, motorcycles can be a great recreational pastime in the Sunshine State, but it is essential state laws are followed and precautions are in place for the safety of both the riders and their passengers.
There are a range of laws in place to protect motorcycle operators and passengers, including helmet rules and insurance requirements. If you were involved in a traffic collision while riding on a motorcycle, be sure you discuss your rights with an Orlando motorcycle accident attorney. Injuries may require accommodations and physical therapy, damage recovery can help you and your family afford those needs.
Florida's No-Fault law does not apply to a motorcyclist.  As such, just compensation must be obtained against the at-fault party for any injuries, lost income or other expenses incurred as a result of the negligence of another person.  Sometimes, depending on the insurance coverage you purchased, a claim can be made against your own insurance company.  An experience motorcycle accident lawyer will assist you in navigating the law and seeking just compensation for your accident.
Helmet Rules, Age Requirements, and Passenger Safety
The helmet rules in the state of Florida are connected to the age of the operator. If you are a minor, under 21 years of age, you are required to be licensed, insured, and wear a helmet when you operate your bike. But if you are older than 21 you are not required to wear a helmet. That said, if you choose not to wear one you are required to have vehicular insurance.
Of course, for safety reasons, it is always best for individuals operating or riding as a passenger on a motorcycle to wear helmets. In the event of an accident, motorcyclists are vulnerable to head injuries.
Things Motorcycle Passengers Need to Know
Passengers can also take the following steps before riding with a motorcyclist:
Is the operator an experienced rider? Operating a motorcycle with a passenger on board requires skill. You need to be able to balance the bike with the additional weight. The operator needs to have experience on their motorcycle to navigate any extra challenges.
Has the motorcycle been designed for two people? Do not ride on a bike that is an incorrect size.
Will you be wearing equipment with safety features? Helmets, protective clothing, and intercoms so the operator and passenger can freely communicate can all be helpful in reducing accidents and crash injuries.
Even when precautions are taken, accidents can happen. Unexpected weather changes or road dangers can lead to motorcycle accidents. If you or someone you care about is trying to cope with a slew of accident expenses and non-monetary losses, connect with an Orlando motorcycle accident attorney as soon as possible. More time to work on a claim could lead to a higher settlement package, talk to a lawyer today. 
Did you sustain an accident injury while riding on the back of a motorcycle in Florida? If you have medical bills, wage loss, and/or other expenses following a bike accident, contact the Orlando personal injury attorneys at Israoui Law.  Always speak to a skilled Florida personal injury lawyer  before speaking to any insurance company representative.  They can assess your situation and determine the proper worth of your claim. Call 407-381-4529. Turn to Israoui Law for the personal attention you deserve.