Injuries Are Possible On Small Mopeds And Large Cruisers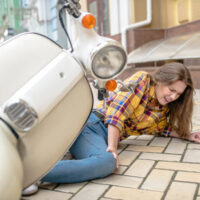 If you ask someone to think of a motorcycle, a range of motorbikes can come to mind. There are many motorcycle enthusiasts in Florida. Some enjoy the sunny weather on small mopeds while others enjoy the beach views on large choppers. While you can create many memories by riding motorcycles, spending a weekend riding with friends or an afternoon on your own, there are risks. Injuries can happen on any bike, whether you choose to own a sports bike or a scooter.
After a Florida motorcycle accident, there can be a range of harm. Some experience physical injuries and are no longer able to work. Others have trouble managing the emotional distress they need to cope with following a collision. Always speak to an Orlando motorcycle accident lawyer before speaking to any insurance company representative. The insurance adjuster could be offering you an amount that is far lower than the amount you have a right to.  A skilled accident attorney can look over your case and accurately assess the possible value on your claim under Florida law.
Severe Injuries Can Happen on a Variety of Motorcycles
If a motorbike of any type is involved in a crash with a larger vehicle, a car or truck, the injuries can be severe and life threatening. Traumatic harm to the head and spinal cord are possible. Risky behaviors, poor weather conditions, and roads that are not properly maintained can exacerbate accident damage, on any type of motorcycle.
People choose different bikes for different needs. Kinds of motorcycles that have lead to personal injury claims include the following:
Adventure sport
Scooters
Choppers
Cruisers
Dual sport
Dual purpose
Job-related motorcycles
Mopeds
Off-road
Scooters
Sports bikes
Standard
Touring
A crash could lead to extensive medical care, including high fees in connection with MRIs, therapy, and medical visits. Insurance companies may try to avoid paying out the full amount needed for an accident victim to move toward healing.
Insurance Adjusters Could Point to Reckless Driving
In a venture to reduce a claim, an insurance adjuster is looking for any indicator of a motorcycle operator driving recklessly or having any fault for the accident.  They may even say erratic driving means a claim  should be denied.
One of the many reasons to work with an Orlando motorcycle accident lawyer following a collision is they know how to prove the need for damage recovery.  They have years of experience negotiating motorcycle collision claims, can pinpoint areas where more documentation is needed in order to secure the results their clients rely on to move past an injurious event.
Were you injured in an accident when riding a moped, scooter, chopper, or sports bike in Orlando? If you have medical bills,  lost wages, or other expenses following an accident, contact the Orlando personal injury attorneys at Israoui Law. A seasoned Florida personal injury lawyer can help. You deserve fair compensation for your loss and should not leave yourself in the hands of an insurance adjuster.  Call 407-381-4529 today. Turn to Israoui Law for the personal attention you deserve.