4 Myths About Seat Belt Use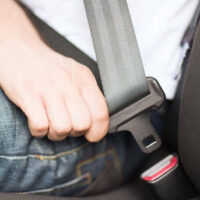 Wearing seat belts consistently is a way to protect yourself from severe injuries in the event of a  car or truck accident. People sometimes dismiss the importance of safety features, instead believing myths about seat belt use as an excuse to not click their safety belts into place whenever they are driving a vehicle or riding in one as a passenger.
Driving responsibly is an important part of staying safe, but so is wearing your seat belt. If you were wearing your seat belt but still sustained an injury in a Florida crash, it can be difficult to know where to turn. Which makes sense, because accident expenses can be overwhelming. Talk to an Orlando car accident lawyer to determine what level of financial recovery could be possible given the details of your situation.
Myth #1 – It Would Be Safer to Be Thrown from the Danger
There are some Florida drivers who have heard or read about a person being thrown from a car or truck and that happening cleared them from the dangers of the crash. This is extremely rare. Truthfully, ejection during a collision leads to severe injuries and fatalities. Making impact with pavement and accident debris is extremely dangerous.
Myth #2 – Not Clicking Your Belt to Avoid Seat Belt Syndrome Injuries
In high-impact crashes, there is the possibility of seat belt injuries, such as abrasions or bruises. But not wearing a seat belt to avoid seat belt syndrome injuries means you are putting yourself at risk of even more severe harm.
Myth #3 – Airbags Provide Enough Protection
While airbags are an important, life-saving tool, they carry a different safety role than seat belts. Airbags inflate to reduce the possibility of blunt force injuries while seat belts keep passengers and drivers secure in a vehicle.
Myth #4 – Seat Belts Aren't Needed for Short Trips in the Neighborhood
To be as safe as possible, you need to wear a seat belt every time you are in a vehicle, whether you are the driver or the passenger. Too often, people become lax in their day-to-day life. Even short trips to the grocery store require safe driving practices and seat belt use. Accidents can happen at any time, on short errands or long trips.
After an accident, protect yourself with the help of an Orlando car accident lawyer. Being overwhelmed by medical expenses and lost income from missed work is possible, but there could be a path to compensation. Financial recovery could be an option. While money can't heal an injury, it can provide a victim with access to quality care.
Do you want to learn about financial recovery following a collision in which you were or were not wearing a seat belt? You deserve to be compensated if another driver was negligent. To schedule a complimentary consultation, contact the Orlando personal injury attorneys at Israoui Law at 407-381-4529. Our experienced lawyers are familiar with all of the details associated with car accidents and how to secure compensation. At Israoui Law, personal attention matters.