Risks Of Arguing When Behind The Wheel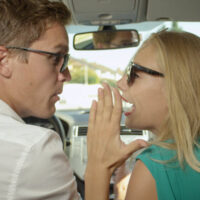 Fighting and arguing affects a person's driving ability. There is the possibility they are mentally distracted by the fight and physically not in position to operate the vehicle if they are taking their eyes off the road to look at another person or twisting their body to yell into the backseat. Road risks may not be recognized as well. Injurious collisions could result if a driver is in the middle of an argument.
Safe roads rely on attentive drivers. If someone is not in complete control of the vehicle they are operating, crashes become more likely. In some instances, an argument prompts another issue, such as a heart attack or stroke,  which leads to more distraction and upset. After an accident injury, you have a right to compensation if another was careless and negligent. Discuss your options with an Orlando car accident lawyer.
Whiplash Injuries, Scars, and Knee Injuries Are All Possible
When cars collide or a vehicle runs off the roadway and hits a tree or building there can be injuries to almost any part of the body. Car accident victims have found themselves coping with neck, back, and knee injuries, as well as broken bones or life-changing head injuries. It is essential all motor vehicle accident victims seek treatment right away to have their health assessed.
You can't control the behavior of others, but you can control your own. If you were hurt because of another's reckless behavior, connect with an Orlando car accident lawyer before speaking to any insurance company.
Were you driving in Orlando when your car was struck by another vehicle that lost control because they were arguing while driving? Compensation could be possible, including compensation for medical bills, wage loss, and other expenses. Contact the Orlando personal injury attorneys at Israoui Law to learn more. You deserve a fair settlement. Call 407-381-4529 today. Turn to Israoui Law for the personal attention you deserve.