A Pre-Existing Condition Disclosure Could Be Part Of Your Claim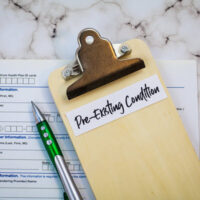 Accident injuries can occur in a variety of ways. Sometimes an injury is an exacerbation or escalation of a pre-existing health condition. Disclosure of a pre-existing condition is part of the Florida personal injury claim process, but that does not mean an insurance company can simply point to the existence of a pre-existing condition as the reason to deny or reduce a settlement amount.
Connect with a skilled Orlando car accident lawyer and have them negotiate with an insurance company for you while you focus on recovering from an injurious event. Experienced personal injury lawyers know how to push back when an insurance company suggests a low amount because of a victim's health history. It is important to be honest about your health each step of the way, but that does not mean you should be responsible for all of the medical expenses involved when an accident aggravates a current health issue.
Your Attorney Can Handle Your Pre-Existing Condition Disclosure
If you are worried an insurance company will use your pre-existing health condition as a reason to deny your claim and are considering not telling them about it, think again. It is a requirement that an injured party discloses their pre-existing conditions. Not providing the proper information will only hurt your case. Besides, when accidents result in further harm to a pre-existing condition, higher recovery amounts are possible. It is in your best interests to be clear each step of the way.
When you share the details of your accident with a skilled attorney, they can gather all of the documentation needed to protect your right to a full and fair compensation package. This could include compelling photos of the scene of the accident and medical records that document the physical harm sustained as a direct result of the collision, including pre-existing conditions that were aggravated.  You should always discuss your case with an experience accident attorney before speaking to any insurance company. Insurance companies always try to obtain information from you that they may not be legally entitled too and will use that information against you.
Economic and Non-Economic Damage Recovery
Florida accidents that exacerbate existing health issues can lead to recovery for economic damage such as lost wages and medical fees as well as non-economic damages such as emotional distress or pain and suffering. To have the details of your accident analyzed by a legal expert, reach out and meet with a qualified Orlando car accident lawyer.
Connecting with a legal professional as soon as you can is a path to building a strong claim. There is a four year statute of limitations in place in Florida, and it can be helpful for your attorney to collect essential evidence in a timely manner. Securing a settlement can be challenging when an accident victim waits to file.
Is it time for you to file a personal injury claim but you are unsure how to share information about your pre-existing health conditions? Contact the personal injury attorneys at Israoui Law. Then, our seasoned Florida lawyers can handle discussions with insurance adjusters on your behalf. We have successfully represented clients who were injured in car collisions, motorcycle accidents, and truck crashes. We will work to secure the maximum compensation amount while you focus on healing. Schedule a no-cost consultation today, call 407-381-4529.