Car Crashes and Orlando Rideshares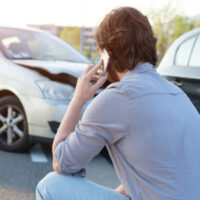 There are many reasons that people in Orlando use ridesharing services such as Lyft and Uber. After all, the companies provide a convenient form of transportation for Orlando residents and visitors. Residents rely on them for personal and business trips and tourists use them to access amusement parks and other fun destinations Orlando has to offer. But, unfortunately, there are times when ridesharing vehicles are involved in car accidents.
If you were struck by an Uber or were in an Orlando car crash with a Lyft, navigating any insurance process can be overwhelming. There are many Florida laws to navigate and there could be multiple insurance companies involved in the process.  A skilled Orlando car accident lawyer can help you secure the financial compensation you need following a rideshare accident.   Always speak to an exprerienced Orlando auto accident attorney before speaking to any insurance company.
Uber or Lyft Accidents and Negligence
There are many reasons why a rideshare driver could be negligent. Some drivers are unfamiliar with an area and find themselves distracted by things outside of the vehicle. Other drivers are trying to maximize their profits so they are out picking up Uber or Lyft passengers when they are tired and should be home resting. Whatever the reason for the collision, if another was negligent, you have a right to financial compensation.
After a collision with a ridesharing vehicle, collect information to secure your personal injury claim. Things you may want to do include the following:
Document the accident area, injuries, and vehicular damage with pictures or video.
Collect the details of each vehicle involved in the accident, including the make and model of each car.
Gather the names of everyone involved and their insurance information.
When witnesses are present, ask for their names and contact information as well.
Evidence is an essential part of any personal injury claim, including accidents involving Uber cars and Lyft vehicles.
Determining Fault and Insurance Companies
People who choose to drive for Uber and Lyft are not company employees. Instead, they are independent contractors. For this reason, insurance claims can be complex.
Because drivers are using their personal vehicles to earn income, the distinction between work rides and transportation for personal errands needs to be clear. So, if an Uber driver does not have a passenger, the ridesharing company may suggest they have no responsibility because the car was being used for personal use, that the driver's personal policy should pay for accident expenses. Yet, if the driver was waiting for a passenger, they could claim the expense falls to the company's insurance policy, because they were working.  Remember that insurance companies are not looking out for your best interests.
Ridesharing companies may try to reduce or deny your claim. An experienced Orlando car accident lawyer can help you secure a full and fair settlement.
Did you sustain an injury because of a car crash involving a Lyft driver or Uber vehicle? If you have bills, wage loss, and other expenses following an accident, contact the Orlando personal injury attorneys at Israoui Law. Call 407-381-4529 today. Turn to Israoui Law for the personal attention you deserve.
https://www.orlando-injury-lawyer.com/is-my-car-totaled-after-an-orlando-accident/