Florida Recreational Vehicle Accident Injuries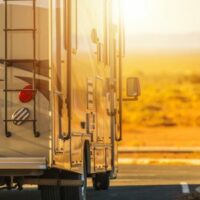 Because Florida has wonderful weather, stunning parks, and popular tourist attractions, there are many recreational vehicles, sometimes called RVs, on the roads. There are many different types of RVs, but many are extremely heavy vehicles complete with living areas, bathrooms and functional kitchens. Of course, others are truck campers as well. What all RVs have in common is that they can be a source of fun and travel, but they can also lead to devastating injuries should an accident occur.
Many states require a commercial driver's license or a special driver's license in order to operate an RV. But this is not the case in Florida. Some RV operators who are tourists on Florida roads may have a special license, but it is not required and inexperienced drivers can lead to accidents. If you or someone in you know was injured in a Florida RV crash, connect with an Orlando car accident lawyer.
The Size and Weight of RVs Create Dangers
Accidents are dangerous and injuries are possible with small and large vehicles. But heavy, huge vehicles can lead to high levels of devastation. For instance, RVs contain appliances that can shift and lead to rollovers. This balance shift would not happen to a smaller vehicle.
Situations that can lead to RV accidents:
Fire risks due to large or additional fuel tanks
Runaway trailers or rollovers lead to an accident involving multiple vehicles
Overloaded vehicles or vehicles are not balanced
Driver does not recognize additional RV blind spots
Mechanical issues or repairs needed
Inexperienced operators lose control
Vacationing drivers are distracted
While accidents are unexpected events, there are things you can do to keep yourself safe when heading out on an RV adventure. You can make sure everyone who will be operating the vehicle is trained properly. Also, you can have the RV checked for any mechanical issues.
Seek Help After a Florida RV Crash
Because accidents are upsetting events, it can be difficult to know what to do after a Florida collision that involves a recreational vehicle. First, have any injuries looked over by a medical professional or doctor. Immediate care means you will have a treatment plan in place. Plus, there will be official documentation of your injury happening because of the accident. This can be helpful later when an insurance claim is filed.
Next, connect with an Orlando car accident lawyer. They can look over all of the documentation and determine negligence, as well as the best possible course of action for just compensation. It is possible the driver acted irresponsibly or there was a defect in the vehicle itself. Financial compensation could be possible. A lawyer will help you secure a full and fair amount.
Were you injured when an inexperienced RV driver hit your Florida car? If you have bills, lost wages, or any expenses following an accident, contact the Orlando personal injury attorneys at Israoui Law. You deserve a fair settlement.  Always contact an experience auto accident attorney before speaking to any insurance company. Call 407-381-4529 today. Turn to Israoui Law for the personal attention you deserve.