Connect With A Professional For Car Repairs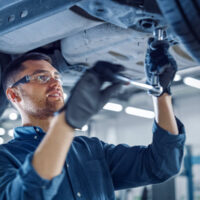 It is common to need auto body work after a Florida car crash. In addition, working on cars is a popular hobby, but you should not have your car repairs done by a hobbyist. Have your car damages assessed and fixed by a licensed auto body professional. Working with an experienced auto body shop will strengthen your claim and could help to persevere your car's value for future sale or trade in.
Insurance companies value cars and auto body repairs differently. Always working with professionals means an insurance adjuster's offer could be countered, in part, with the estimate of a credentialed mechanic. If you do repairs on your own, or have an inexperienced friend or family member do them, insurance negotiations can become difficult. Connect with an Orlando car accident lawyer to learn more about best practices following a collision.
Keep in mind that you have the right to have the vehicle repaired at any body shop of your choosing.  Insurance companies like to try to convince you to use their "recommended" body shops because they have contracts with those body shops.  This saves them money on labor fees and those body shops often use after market, used or junk yard parts to repair cars.  This keeps in the costs low for insurance companies, but may not be the best option for your vehicle.
An Amateur Mechanic Could Cause Further Damage
Repairs that aren't done properly can lead to more damage. And if your vehicle is damaged because a person working on it used the wrong tool or did not have the proper training, it may end up costing you more. This additional expense will not be covered by an insurance company.
Plus, if a person is not experienced in the field of auto body work, they may misjudge the damage. Once they begin working on the car, they may realize the damage is far more severe than they originally thought. Do not assume damage to your car is easy to fix, have a professional assess the scratches, dents, or cracks to understand the extent of the damage.
Preserving a Car's Value
Of course, the top priority when a car is fixed is to have a safe, working vehicle. But there are other things to consider as well, such as appearance and resale value. An experienced auto body shop has the expertise to perfectly match paint, for instance. A detail that could impact the value of your car should you choose to sell it, or trade it in at a dealership for a new car or truck, in the months or years ahead.
Questions about how to pursue a Florida accident claim can be answered by an experienced Orlando car accident lawyer. A skilled attorney will let you know what steps need to be taken and what the true value of your claim is, once all damages are assessed. Negotiating with an insurance adjuster could be a path to a higher settlement amount, have an expert negotiator talk to insurance professionals on your behalf.
Are you concerned about how much body work your car is going to need following a Florida accident? Property damage could be part of your compensation, along with medical bills, wage loss, and other expenses. Contact the Orlando personal injury attorneys at Israoui Law to learn more.  Always speak to an auto accident attorney before speaking to any insurance company.  Call 407-381-4529 today. Turn to Israoui Law for the personal attention you deserve.