Drivers Taking Prescription Drugs Can Be A Danger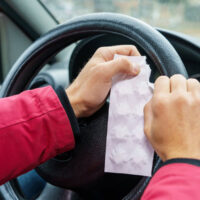 Driving while under the influence of alcohol or drugs poses significant risks to both the driver themselves and others on the road. While this is widely understood, it is common for individuals who take prescription drugs to not understand they are taking similar risks when they don't fully realize the impact of their prescription drug side effects.
It is possible a driver will not be able to concentrate on the task of driving or is unable to react quickly enough to emergency situations because of their prescription drug use. Florida car accidents because of drugged drivers have led to extensive property damage and physical injury. If you are unsure where to turn after being hit by a driver who you believe was under the influence, connect with an Orlando car accident lawyer.
Sedatives, Narcotics, Stimulants, and More
There are a range of prescription drugs that can impair a person's ability to drive safely. According to one report, approximately one in five drivers take prescription drugs that could impact their driving ability. Some of these medications include the following:
Sedatives that can increase drowsiness and delay reaction times.
Allergy medications which can result in brain fogginess and fatigue.
Pain medications that lead to an inability to focus.
Blood thinners which may lead to fainting for some users.
Drug interactions also need to be taken into account. If you are already taking a prescription medication and are prescribed another drug, it is essential you understand the possibility of these drugs interacting to create additional side effects. This can also be true for over-the-counter medications and illegal drugs. Being honest with your pharmacist and healthcare providers throughout your care is important.
Rare Reactions and Staying Informed
Talking with healthcare professionals throughout your treatment is essential. So, if there is a change in how a drug is impacting you, let them know. For example, if a doctor recommends a dosage adjustment and you then find yourself feeling dizzy, alert them of this change. Until the issue is resolved, do not drive. If you need to make a trip, maybe a family member or friend can drive for you. Or maybe you can request a car through a ride sharing service until you are feeling like yourself again.
Even if you are being careful with your medications, it is possible another driver isn't taking the same precautions you are taking. Car accidents happen unexpectedly, and when they do there is the possibility of needing to replace your car and pay doctor bills. If you have a list of expenses from a Florida wreck and feel another party should settle these debts on your behalf, talk to an Orlando car accident lawyer about damage recovery options.
Do you believe your Florida car accident injuries are the result of a drugged driver? You deserve to be compensated if another driver was negligent.  Always speak to an experienced auto accident lawyer before speaking to any insurance company representative.  To schedule a complimentary consultation, contact the Orlando personal injury attorneys at Israoui Law at 407-381-4529. Our experienced lawyers are familiar with all of the details associated with car accidents and how to secure compensation. At Israoui Law, personal attention matters.