Medical Records Are Essential Evidence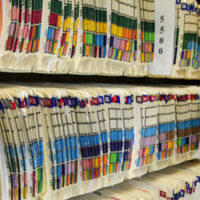 When building a strong personal injury claim, securing valuable evidence is essential. Documentation of the injury itself, how the injury was sustained, what treatment plan is being followed, results of any x-rays or MRIs, and the opnions of your medical doctors, provide proof that an injury was the result of the accident and a certain level of financial recovery is needed to settle all of the expenses connected to the event. Medical records are an important part of Florida personal injury claims.
Gathering medical records can take time and patience, but an Orlando car accident lawyer can do the legwork for you and walk you through the process of a successful claim. While you can request your medical records on your own, a legal expert can assist you to smooth the process and improve the likelihood that you will secure a full and just settlement amount.
Your Records and HIPAA Protections
The Health Insurance Portability and Accountability Act, also referred to as HIPAA, was signed into law in 1996 by President Bill Clinton. HIPAA was designed to protect individuals from fraud or theft by prohibiting healthcare professionals from disclosing protected information. Because of HIPAA protections, only you or an individual you authorize can access your medical records.
Because the law was enacted on a federal level, HIPAA protections are in place in every state. That said, there are small differences from state to state in regards to administrative fees for record copying and how long it takes for a patient to access documentation of their health history.
After a car accident, you can sign over authorization to an insurance company to review your accident injury treatment and obtain your medical records.  However, this is not advisable.  The problem with a blanket release is an insurance claims adjuster may be trying to identify ways to undervalue your claim. One route is to call into question if your injuries were sustained in the accident itself or are manifestations of a preexisting condition or other health issue.  Remember that insurance companies are not on your side and routinely look for ways to minimize your injuries and try to get away with paying as little or nothing at all for your injury claim.
Consult with a Florida Personal Injury Attorney
When you hire an Orlando car accident lawyer, they can obtain the medical evidence for you and know what is needed to meet your burden of proof under Florida law and advise you on what options are possible when it comes to a damage recovery settlement. Yes, you will need to give access to your lawyer in order for them to receive copies of your records. Then, an experience car accident attorney, not an insurance company, can determine the proper value of your claim and fight for just compensation for you.
Has an Orlando insurance representative contacted you with a request for you to release your medical records to their company? You do not have to sign over your medical records in order to secure a full and fair statement following a Florida car accident. Talk to the skilled, compassionate, and experienced team at Israoui Law. You need an attorney fighting for you. Together, we'll discuss the details of your situation and strategize a path to resolution.  Always speak to an auto accident attorney before speaking to any insurance company representative.  Contact our Orlando personal injury attorneys at 407-381-4529 for a complimentary consultation.