Orlando Construction Zone Areas Have Distinct Risks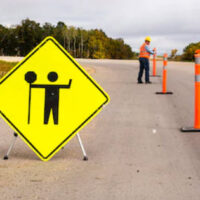 Accidents in construction areas can be particularly dangerous, particularly because workers are on the site and heavy machinery is often in use. Detours and unexpected changes in traffic flow can confuse drivers as well. In an effort to make Florida work zones safer, there are often passing limits and reduced speed limits. Plus, fines can be high. In the state of Florida, it is possible to receive a speeding ticket for double the standard fine amount when the violation is in a work zone.
Injuries from construction work zone accidents can be severe. If you are recovering from an injury, talk to an Orlando car accident lawyer about your options for damage recovery. Whether the accident was due to an unsafe work zone or the result of another driver's negligence, there could be a path to financial compensation.
Appropriate Signage and Safe Driving
There are a variety of reasons for construction work zone accidents, including the following:
The construction zone area was not marked with appropriate signage
Driver ignored signals, signs, or directions
Construction work vehicles and equipment were not secured or place properly
Speeding or other reckless behavior, such as distracted driving, led to a collision
Visible safety gear and clothing not worn by workers
Contributing factors could come from more than one party as well. For example, one contributor could have been a driver who was not paying attention to signs informing them to slow down and merge to a safe area. But the risk could have been exacerbated because the workers did not have the appropriate signage and barriers in place.
Just as individuals have a responsibility to drive safely and be aware of others on roads and highways, construction teams have a duty to follow a plan to keep workers and the public safe. Unsafe construction work zones are extremely hazardous and can contribute to collisions.
Talk to an Orlando Construction Work Zone Lawyer About Your Claim
Accidents can be extremely emotional and upsetting, whether they occur in a work zone or in another environment. When a family is juggling long-term treatment plans and an ongoing stream of medical bills they may not know where to turn. If this is true for you, connect with an Orlando car accident lawyer. An experienced attorney can assess your case, determine negligence, and put you on the path towards financial compensation.  They can also handle the stress of gathering evidence and dealing with insurance companies.  Always talk to an experienced accident lawyer before speaking to any insurance company.  Insurance companies are not on your side.
Construction zone injuries can be complex. You do not have to negotiate or deal with the case on your own. There may be multiple insurance companies and lawsuits to address. A seasoned attorney can help.
Did you sustain injuries in a Florida work zone wreck? If you have bills, lost wages, or their expenses following an accident, contact the Orlando personal injury attorneys at Israoui Law. You deserve a fair settlement,.  Don't leave your self in the hands of insurance companies who are looking for their own best interests. Call 407-381-4529 today. Turn to Israoui Law for the personal attention you deserve.